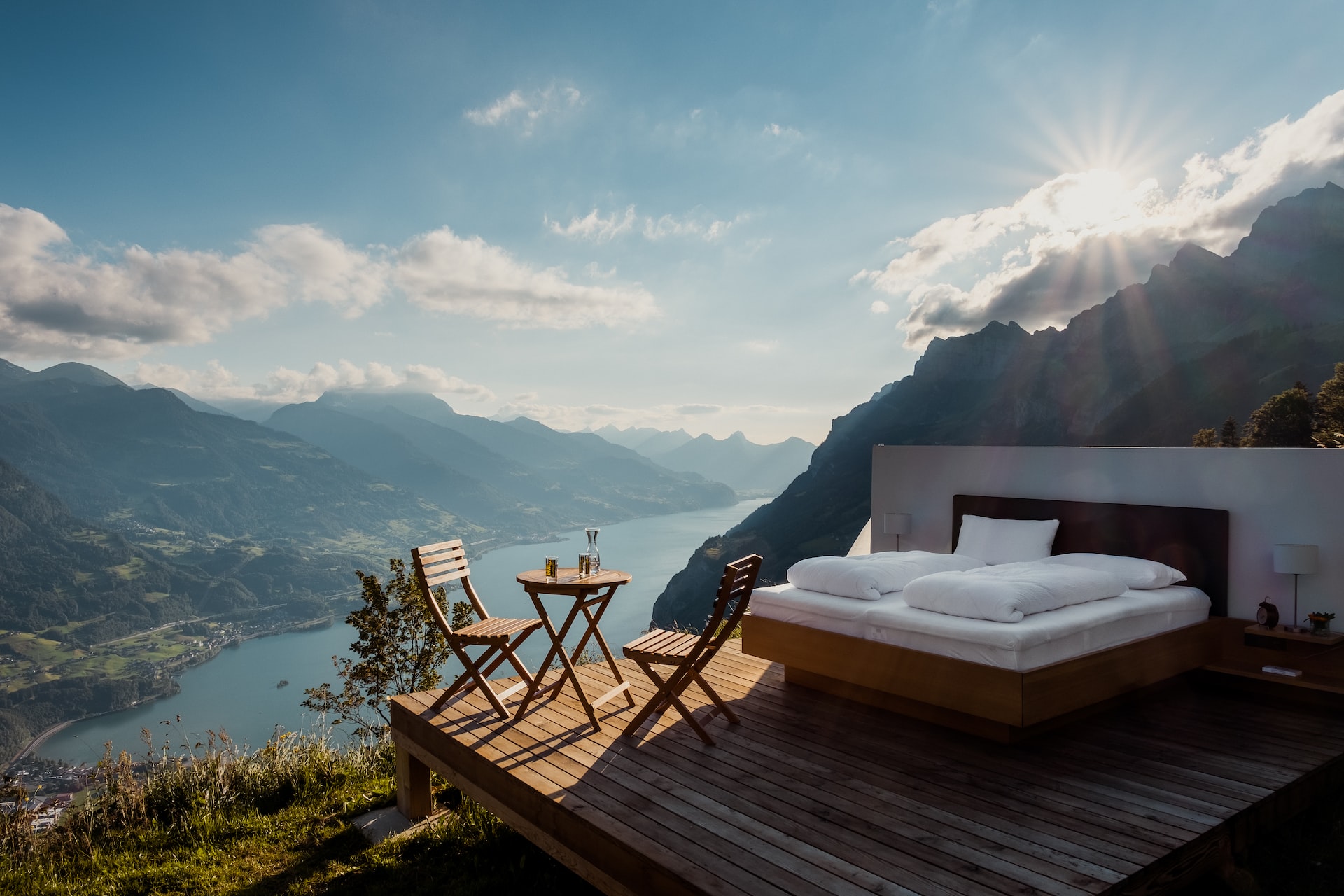 Customers today are pickier than ever. It takes one bad experience to turn them off from a business – and that can be costly for hotels.
This blog post will explore ways to improve the guest experience and increase hotel customer loyalty. Keep reading to learn more!
The focal point in hospitality: Customer experience
A competitive edge in any business depends on providing an excellent customer experience. A well-defined hotel experience management plan becomes essential to succeed in this competitive market.
You may also like this article: How Do Customers Choose Hotels?
Why focus on customer loyalty?
Customer loyalty may be defined as a measure of an ongoing relationship between customers and the brand. That is to say, loyal customers are those who choose a brand repeatedly over the other available options.
For hotel marketers, customer loyalty means establishing more emotional relationships with customers through providing an exceptional hotel experience.
Improved marketing strategies such as amping up cleaning standards and providing excellent customer service via digital check-ins or keyless entries take you just halfway through your goal. However, an improved hotel experience helps you to increase guest retention and bookings.
The primary strategy for customer loyalty must be to provide your guests with an exceptional experience that they will remember and convince them to book with you again.
Increase hotel customer loyalty
In this article, we will talk about a multitude of ways to make your guests' stay memorable.
Make An Emotional Connection
Take Advantage of Digitalization
Create a Powerful First Impression
Provide Concierge Service for Your Guests
Offer Something Authentic
Provide Workplace Options for Business Travelers
Set a Reading Corner in your Hotel
Offer Free Snacks and Drinks
Plan Theme Parties in Your Hotel
Give Branded Goodbye Gifts
Reward Customers' Loyalty
Make An Emotional Connection
You should aim to help your customers feel connected to your brand. The benefits can be enormous when businesses are connected with their customers' emotions. Hotels should add it to their agenda as a strategy to create new value in terms of customer experience.
Aligning your hotel with the emotions that drive your customers' profitable behaviors with your brand is as imperative as providing quality services. Small changes and personal touches can lead to powerful connections.
As a brand's relationship with customers deepens, they move easily along the journey toward customer loyalty establishment. Appreciation, happiness, gratitude, and feeling respected and valued are just some of the positive emotions that drive long-term loyalty.
Take Advantage of Digitalization
The customer's journey to consumption is rapidly changing due to technology. Using a multi-channel and multi-device approach to plan digital marketing strategy is more important than ever before.
Have you seen our related article: Digital Transformation in Hotel Industry
For instance, a mobile app for booking or late check-out requests and room service for your guests could be a good move for your hotel's digitalization journey.
From customer service to accommodation, an excellent experience affects word-of-mouth referrals and online reviews, which are the most reliable references for new travelers. Your loyal customers will do it for you.
And also, you may consider working with a digital marketing agency specializing in the hospitality industry for your online marketing, such as social media management, website, or mobile apps.
For this reason, establishing strong relations with current customers is the key to building guest retention and, later on, influencing prospects.
Create a Powerful First Impression
Build an impression that counts. First impressions are vital for the hotel industry. It starts from the minute your customers place a reservation. From that moment, make them feel comfortable and at home. Then, make sure every guest is pleasantly welcomed when they arrive.
Choosing to approach customers pleasantly, confidently, enthusiastically, and with a helpful attitude will increase customer experience and also your future bookings.
Provide Concierge Service for Your Guests
Having a well-trained, knowledgeable concierge service will give you a leg up on many hotels that may not have these services. Therefore, your front desk team needs to know about the surrounding area as well as your hotel.
Your new customers will need help navigating the hotel and likely want information on nearby restaurants and attractions. First, have your concierge service provide the best recommendations for dining, activities, and special events occurring at that time.
Then, take one step further and offer guests coupons or promo codes for a show or dinner to ensure guest loyalty.
Invest in Training and Development
If you are a hotelier, providing superior customer service is a must. Guests often see hotel staff as a single unit; hence, the lackluster service they get from one staff member may affect your hotel's reputation negatively.
In order to improve customer experience and reduce employee turnover, to work with happier, better performing, and more loyal staff, hotel management should focus on developing and training their own hotel staff. Satisfied and long-term loyal employees mean loyal customers.
Offer Something Authentic
All you need is creativity. Focus on your target market and offer something catchy. To make your hotel guests' journey in your hotel unforgettable, offering something unique is quite a smart idea.
For example, you may name your rooms differently. These names are up to your target market. You could choose such names from a song, a movie, poets or writers, or venues nearby your hotel. Define your target market and let your creative side shine!
Also, incentives can be tailored to your guests. Offering "mum-dad time" for families staying at your hotel is a great idea for tired parents. While mums and dads enjoy their free time and kids have fun in the play center of your hotel, that sounds great.
For an immersive guest experience, offer spontaneous travel guides depending on your target audience. Young travelers may be interested in concept parties, while retirees may consider trek options. For business travelers, you may offer a wine or ale-tasting event.
In your hotel's restaurant, offer special foods each day from all over the world. Adorn various spaces in your hotel with flags, artifacts, and decorations from various nations and celebrate different cultures with your guests.
Create Workspaces for Business Travelers
Offering spaces for your guests to work remotely without distractions takes your hotel a step ahead of your competitors in terms of customer satisfaction.
Working areas provide your customers with a tidy, adaptable, and noise-free environment for successful focused, and productive working sessions. Don't forget large desks, ergonomic chairs, and improved WiFi connection to make your guests comfortable.
To offer them a personalized experience, even if they book another room, you can offer upgrades to another room where business travelers may enjoy more. Then just watch you increase your repeat guests.
You can also ask them for guest feedback to improve your hotel operations according to guest expectations. When they see how you applied their recommendations, they will mention this in their guest reviews and come back to your place in the future.
Set a Reading Corner
Organizing a reading corner named "Don't judge a book by its cover" for book lovers is also a terrific idea. Wrapped books look mysterious and help your customers discover their new favorite book. You may write quotes from the book, and every guest picks one. As Milan Kundera said in the novel The Unbearable Lightness of Being,
"Chance and chance alone has a message for us. Everything that occurs out of necessity, everything expected, repeated day in and day out, is mute. Only chance can speak to us. We read its message much as gypsies read the images made by coffee grounds at the bottom of a cup."
Let the coincidences bring joy to your guests and make your hotel unforgettable!
Offer Free Snacks and Drinks
People love free things, so no matter how small, your guests will be grateful for the gift. Instead of a mini-bar full of high-priced items, offering free snacks and drinks, or for fun, fortune cookies could be one of these creative ideas to say Aloha!
Also see: Promotional Giveaways: Why They're Beneficial for Your Business
Giving customers a memorable experience is the keystone of customer loyalty. As Maya Angelou said:
"I've learned that people will forget what you said, people will forget what you did, but people will never forget how you made them feel."
Plan Theme Parties in Your Hotel
The party theme may vary depending on the target audience. It could be an 80s or 90s night, a color-themed party, a superhero party, etc.
For example, food options for superhero concepts include cookies shaped like insignias or decorated in superhero-related hues, etc.
A pampering day spa party is also a good idea. Create various pampering areas throughout your hotels, such as pedicure, foot spa, and manicure stations, or hire a team of professionals to offer guests mini-massages and facials for free.
Through this tiny marketing magic, you could also sell other services in the hotel's spa.
Give Branded Goodbye Gifts
As your guests depart after their stay, leave them with a complimentary gift branded with your logo. Offer a notepad, pen, a branded mug, or a free photo shoot. It's the move that counts and makes your guests remember your hotel.
Most hotels offer tiny and sometimes cheap shampoo, conditioner, soap, lotion, and shower gel. Give your guests a more quality experience with higher quality products to make them feel refreshed and rejuvenated with additional extras such as razors, hairbrushes, or makeup remover wipes.
Via your offerings or tiny gifts, tell the story of your brand and be the facilitator of your guests.
Reward Customers' Loyalty
Rewards are an excellent strategy to keep visitors returning. The prizes must provide genuine value to your visitors while also generating a profit.
For instance, you may provide a free night when they reserve at least three nights. You could convey a sense of exclusivity by giving discounted drinks.
Discounts for high-spending customers like business committees or corporate guests would also be a sound idea to retain them. Creating a loyalty card can help you with this.
Key Takeaways
A positive customer experience has a huge impact on guests returning to your hotel again and again. Training employees by focusing on how to improve customer experience is also a keystone. All the wonderful experiences you offer to your guests are sure to make your hotel unforgettable.
The most effective hotel loyalty programs are the ones that are carefully planned. As a result of your hotel's well-designed loyalty program, superior service, and creative efforts, your bookings and profits will increase not only guest retention but also your bookings and revenues.
Contact our talented and experienced team to discover more ways to improve your hotel experience and increase loyal guests.
Sign up for Gourmet Newsletter
Subscribe to our newsletter to get access to exclusive content.
Get this newsletter