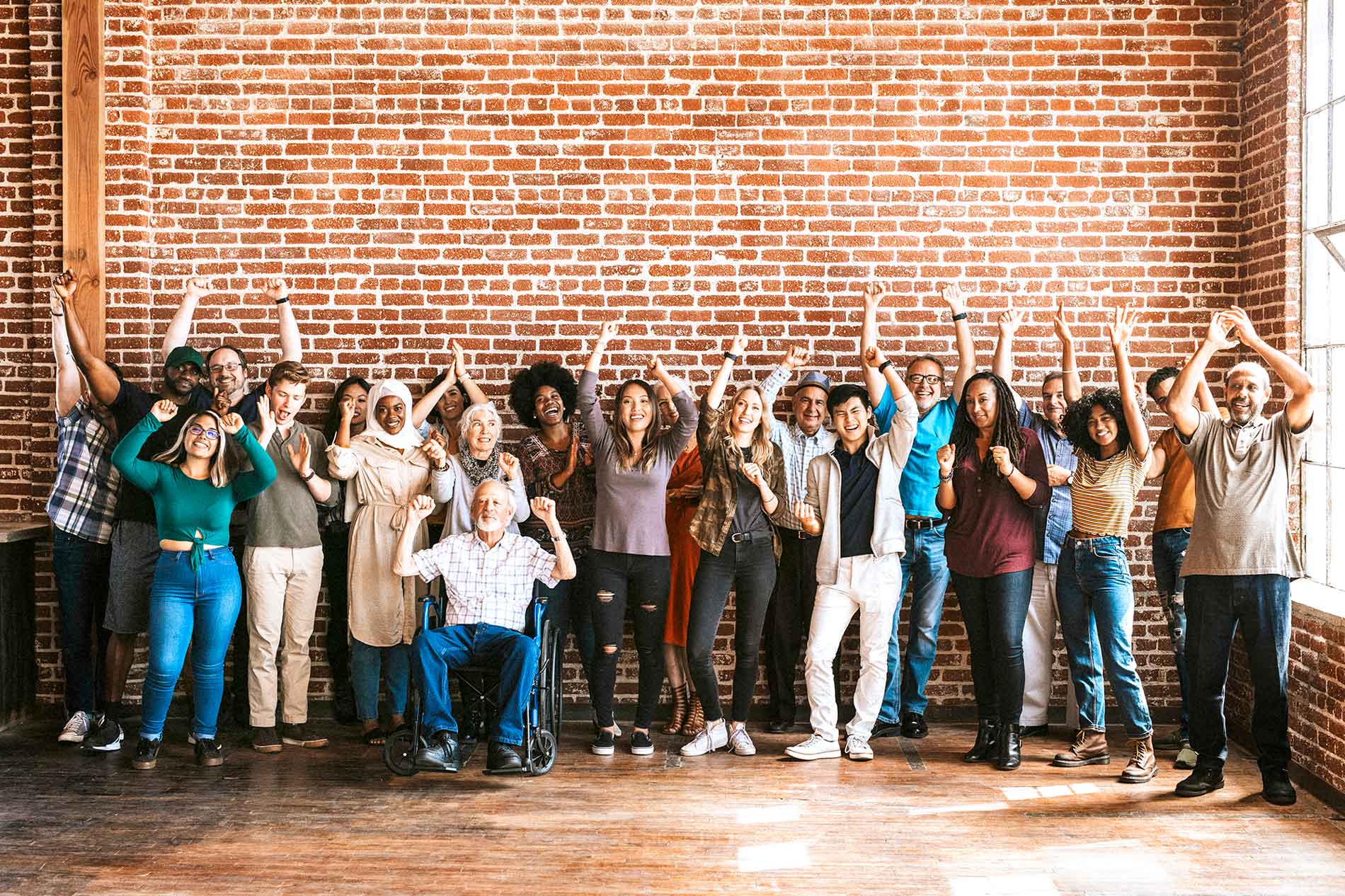 Many industries have begun to embrace diversity and implement inclusive marketing in their business strategies. For instance, we see various body types in fashion magazines or watch TV series in which LGBTQ+ people are represented.
Inclusive marketing is about giving room to those who are underrepresented or minorities. It is a clever strategy to reach the large masses considering the power of buyers from different backgrounds.
The power of the customer is overtaking the marketing world.
Customers' control over marketing communication has never been that much. They are no longer passive buyers thanks to the social media age. They are now considered a dynamic part of the marketing process shaped considerably by their needs and demands. They can 'exclude' the brands when they do not feel included.
According to the inclusive marketing research conducted by Microsoft, 49% of participants stated that they have stopped purchasing from a brand that did not represent their values.
Chief marketing officers (CMOs) that insist on a one-size-fits-all approach and one-dimensional marketing campaigns are taking the risk of being ostracised. Being inclusive in your campaigns does not only mean that you have social awareness. It also has a huge financial impact on your sales.
So the evidence is clear: Lack of inclusivity is related to a decline in the popularity and sales for common brands.
The age of inclusion drive companies on to spruce up.
However, this reputational damage can be patched up with marketing efforts by a strategist who is aware of pain points. Many marketing teams have already confronted the lack of inclusivity and adjusted their campaigns accordingly.
One of the best examples is Calvin Klein's 2009 and 2020. The former campaign was presented with a white-skinny model whereas the latter was featured by a black LGBTQ+ plus-sized model.
Likewise, the reboot of the popular TV show 'Sex and the City' now has a cast consisting of a wide variety of underrepresented people. Also, in 2020, we saw Victoria's Secret's first transgender model and more plus-sized models started appearing in their marketing campaigns.
In addition, the hospitality industry also keeps pace with the age of inclusion. One of the excellent campaigns that implement inclusive marketing for the hotel industry is the search tool for LGBTQ+ friendly hotels developed by Orbitz. It contains more than 35k name-brand, boutique, and independent hotels.
Being a partner of the International LGBTQ+ Travel Association, Orbitz emphasizes that they make a difference and that they believe 'in a world where people travel on their own terms, not the ones society created for them'.
We can increase these instances. The point is, to get in tune with the times of visibility, inclusivity, and equality, no business should face away from better representation and diversity. Thus, business owners should make an effort to create an inclusive culture throughout every aspect of their business, including the digital marketing plan.
What Is Inclusive Marketing?
First thing, first. Inclusivity means respecting and embracing human diversity on many dimensions such as age, gender, ethnicity, culture, body type, sexual orientation, gender identity, language, and religion. Like we all should do in real life.
It also includes experiential diversity like physical and mental abilities, military status, marital status, parental status, immigration status, socio-economic status, and job function. Inclusive marketing campaigns may appear on many topics.
Inclusive marketing recognizes the customer base with these individual differences. It involves appreciating and empathizing with their uniqueness. Creating a marketing plan that represents a heterogeneous customer base is the key.
In this respect, it is crucial to create diverse voices to tell their stories with appropriate messages in every marketing step.
Adopting inclusive marketing help you outperform
As it is said, business is about belonging. Whether it is the beauty industry or a hotel, one needs to show that their product or service meets the customer's needs. Adopting diversity & inclusion as a principle helps the brands connect with them. That connection through diverse voices makes them choose that particular brand among a vast number of alternatives.
Thus, it is not surprising that such inclusive brands are 35% more likely to outperform their competitors. Many inclusive marketing campaigns achieved their goal by overcoming cultural bias and elevating diversity.
While inclusive marketing strategies benefit all businesses, it is almost a must for some. Maybe foremost among them is the hotel industry. Making the customer feel at ease is one of the most fundamental requirements for purchasing your hospitality service. Embodying a range of backgrounds in the messaging can reproduce the sense of belonging. So does the comfort of feeling 'at home'.
Research by MMGY Global indicates that the inclusion of Black people in advertising affected 54% of Black travelers in the U.S to visit a destination. We can say that inclusion is critical, and representation matters in marketing. So, hotel marketing is not an exception.
Why Does Inclusive Messaging Matter?
One of the benefits of inclusive messaging is to provide brands with a tremendous opportunity of reaching a wider audience. While it means winning current customers' approval, it also helps attract potential ones.
As mainstream messaging is not enough to be applauded, brands must make a difference to stand out for their brand perception. The solution is to be inclusive in preparing your brand for the future.
1. Improve your brand perception
The opinions and beliefs of the customers about the product or service they receive effectuate the brand perception. Even before receiving it, they envision what the brand has to offer.
As research suggests, 62% of consumers believe that diversity influences brand perception. Plus, consumers opt for credible and reputable brands over others. Yet another study shows an increase in consumers looking for inclusive companies by 181% in the recent year.
2. Impact on staff
Apart from public perception, inclusive messaging also impacts staff. Companies that encourage diversity in terms of gender, race, and ethnicity in the working environment are 35% more likely to outperform financially than others.
If employees feel comfortable about who they are in the workplace, there is a great chance to have higher retention rates, which ends up with higher customer satisfaction.
3. Boost your brand reputation
When it comes to the hotel industry, customer satisfaction depends on many factors such as the ambiance of the hotel, room amenities, high-quality service, and hospitality in general. Satisfied guests tend to establish loyalty and spread the reputation by word-of-mouth. Personal experience on inclusion has the power to increase word-of-mouth recommendation on both social media and face-to-face communication. On the other hand, negative comments affect the customer attitude in the purchase phase.
To that end, given the power of customers on public perception of hotel brands, they should be treated as business partners. This is because guests with a favorable review of your hotel services are the most influential tool in the decision-making process of new ones.
How to Implement Inclusivity in Your Marketing Plan
Considering the importance of implementing inclusive marketing, there are some points to consider when creating your strategies:
Remember your audience
First of all, you need to remember who your target audience is. Avoid assuming that they are by default able-bodied or all belong to a specific demographic group or culture.
Taking time to expand your target audience would be a great investment.
Know what makes them unique,
Support their diversity for inclusiveness,
Think about their needs beforehand,
Make your guests feel that your brand truly respects them.
In this way, they feel welcome. This would also extend the impact of your brand messaging.
Think beyond major holidays
Moreover, getting to know them brings along their special occasions. It is important to think beyond major holidays and celebrate appropriately. Calling attention to celebrating or commemorating lesser-known days on social media content would be a favorable idea.
This involves the days of importance to diversity and inclusion movements.
Be thoughtful about visuals and audio for advertising
Another point of consideration is that hotel advertising materials should be created thoughtfully. Both visuals and audio used for advertising will establish a direct connection between your brand and your guests.
Showing people that look and talk like them in various content of your company is more likely to strengthen that connection. Your hotel's website design needs to be accessible for people with disabilities.
Use inclusive and culturally sensitive language
Implementing an inclusive marketing strategy requires using culturally sensitive language. Whether it is social media marketing campaigns or the content of your website, inclusive language is key to resonate with a more diverse audience. Some expressions or habits of use can be offensive and derogatory for some of your potential guests.
In addition, beware of using metaphors since they can be specific to one culture and are not always understood universally. Finally, keep in mind that the purpose here is not to be politically correct but to stand on your dignity.
Maintain culturally sensitive language in the working environment
However, it is not only digital marketing that should fulfill sensitive language requirements. It also applies to your work environment.
For example, the staff you hire who will engage in face-to-face communication with your guests should be aware of sensitive language. Therefore, it is best to have a workplace conversation devoid of discriminatory language. Maybe arranging a training program for both staff and managers in advance serves the purpose and prevents any undesirable situation.
Avoid stereotypes
You also need to refrain from any kind of stereotypes. Inclusion is about conceiving that your guests are unique and have their own opinions, beliefs, and attitudes. No matter what they wear, what they look like, or how they speak.
You need to avoid making quick judgments and categorizing people in groups. This brings along prejudice and it is something that has no room for inclusivity.
Implement inclusivity year-round
When cultivating an inclusive culture throughout all dimensions of your business, it becomes art and part of your brand. It is not something seasonal and should be implemented year-round. However, inclusive marketing isn't always easy to do right. Internalizing the mentality of inclusion and reflecting the understanding by thought-provoking campaigns through all your channels require effort to succeed.
For this reason, investing in marketing services would be a worthy investment. Hotel marketing agencies can help customize your services that cater to all customers when creating a marketing plan.
Examples of an Inclusive Marketing Plan
There are many different ways marketers can implement to enhance inclusive marketing and advertising. Below are key strategies to make your hotel more inclusive at the business of belonging.
Social media ideas
To improve the visibility of your hotel, it is essential to have a solid social media presence. One of the best ways to inspire your audience about inclusivity and social awareness is to create thoughtful and respectful content. Through blog posts, promotions, and campaigns that showcase human diversity, you can have a chance to break norm-governed advertising rules.
For example, Travel As You Are campaign by Orbitz highlights the values and experiences of the LGBTQ+ community and empowers them to travel as they are.
Visually rich video content
For social media, video content is a trend. For companies, it is an excellent instrument to build brand awareness. Visually representing a variety of demographics in your promotional videos and virtual tours may attract lots of customers.
For example, you can demonstrate people with disabilities enjoying the hotel amenities. Also, you can include LGBTQ+ people savoring delicious vegan meals for dinner at your restaurant or various ethnic groups celebrating their holidays. You name it.
Guest feedback
Apart from conveying your message, you can also use social media to receive feedback from your past customers. On various platforms, you can offer your guests an opportunity to leave their comments about their stay. In that way, you can keep a record of how your hotel services are perceived publicly.
This can help you work on developing your hotel brand. It is best to allocate time and energy to respond to them using inclusive and respectful language. Always be aware of the tone of your language and have a proactive approach while dealing with bad reviews.
Email marketing campaigns
While attracting new customers through various channels, it is best to remarket your past customers. Engaging with your past guests by your email marketing campaigns may open up an opportunity for long-lasting relationships with them. Be it a survey about their stay or a newsletter about offers that may interest them.
Contacting your former clients via personalized emails guarantees that brand image is maintained. In this way, you can better target a returning client base and make direct contact with those who consider rebooking.
Product/services offered
The quality and accessibility of products and services your hotel offers should tune into the inclusive culture your brand adheres to. You should reconsider the amenities of your hotel.
If needed, never hesitate to redesign and improve them. Hotel guests want to have experiences tailored to them. So better abide by inclusivity and deliver on what is needed.
Designing hotel interiors
Designing hotel interiors to be accessible for people with disabilities is a must. An accessibility audit can be a good starting point. Also, think about accommodating common and private spaces for beliefs and rituals for those affiliated with various religions.
Also, gender-neutral common spaces for LGBTQ+ guests make your guests at ease. It is also crucial to be culturally appropriate when creating themed hotel rooms.
Benefits of Fostering an Inclusive Workplace Culture
Implementing inclusive marketing on all facets of your brand ensures gaining recognition from various audiences. Getting in touch with future guests in advance and appreciating the validity of their demands can brighten your brand's reputation in the public eye.
Inclusive advertising increases the purchase intent of clients. Seeing themselves represented authentically and appropriately makes your guests feel valued and respected. This is where they are disposed to spend their precious time and money.
Inclusive marketing enhances

customer trust and loyalty

. When your brand establishes a bond with your customer, the chances of getting a favorable reputation and re-booking are heightened.
Making cultural diversity a priority in the working environment excites your employees about your brand. In a place where they are treated fairly and respectfully, they can freely express themselves. By this means, they can thrive on being more creative and productive. In that way, you can raise awareness of your brand and support real inclusion. This makes your attempts to promote inclusion be more genuine.
Diverse workplace culture enlarges the perspective of your company. Having a team from different backgrounds that resembles your target audience in many aspects improves your business through a cultural lens. Embracing their uniqueness promotes better teamwork and hence better customer experience.
Through inclusive social awareness campaigns, your brand can raise the voice of your potential customers. This, in turn, will raise a good reputation and enhance your brand perception.
To sum up, inclusive marketing has many benefits on finances, brand perception, retention, employee morale, and productivity. The days of white-centeredness and discrimination in marketing are long gone.
Cultivating an inclusive culture as a brand priority is now a customer expectation. Accordingly, the brands that keep up with this expectation will make a difference and be at the fore.
Sign up for Gourmet Newsletter
Subscribe to our newsletter to get access to exclusive content.
Get this newsletter