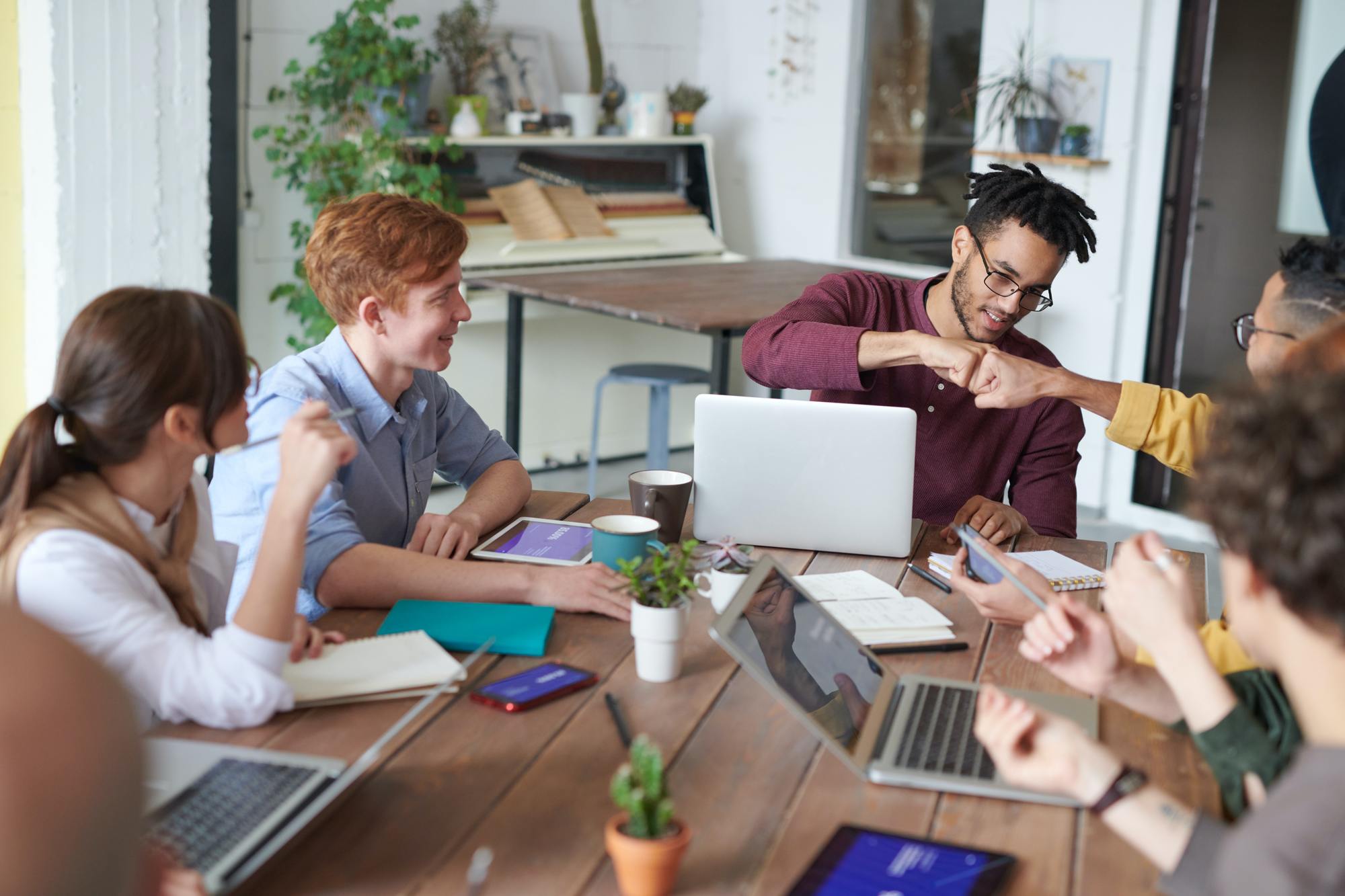 Hospitality is a competitive industry, and hotel marketing strategies are your saviors.
People are not interested in boring marketing messages with lifeless visuals. They want creative and engaging communication. They want experience. And without a strategy, marketing is gambling.
Experience is definitely the keyword if we talk about hotel marketing strategies to increase bookings and boost visibility.
Marketing plan in the new normal
As the hospitality industry has still been recovering from the COVID-19 pandemic, hoteliers keep developing novel hotel marketing strategies to offer additional value for guests and stand out against the competition. After a few slow and confusing years, hotel occupancy rates are rising.
An effective hotel marketing plan is the key to growth, and this transformation period is suitable for innovation!
A hotel marketing strategy should be dynamic, constantly keeping up with the seasonal trends and market trends in a smart way.
Here we will talk about the most essential and interesting hotel marketing ideas to drive travelers and boost bookings.
If you are a hotel manager or marketer, please scroll down.
First Steps into a Successful Hotel Marketing Strategy
Your goal is to increase bookings and build a reputation in the hotel industry. As you start crafting your strategy, some essential principles should be considered.
The steps below are the sine qua non of a well-functioning hotel marketing strategy regardless of the specific features of your hotel.
Improve Your Value Proposition
A value proposition refers to the value your business promises its customers. It is arguably the most critical aspect of a marketing strategy as it tells your audience why they should choose your service. You can't be sloppy with this.
When creating a hotel website, updating your OTA profiles, or buying ads, you need to be efficient with the marketing message you are attempting to convey. First of all, your proposition must be easy to understand. You should deliver your message in a way that everybody will get.
Your actions in value proposition will bring better conversions of upselling, cross-selling, and engagement in return.
Pro Tip:
Tell the customers the specific experiences and results they will get if they choose your hotel.
Understand what they need and desire.
Recognize what you do best and what your competitors don't have.
Then, under the guidance of these three principles, communicate your message in a way that best suits your brand.
See what we did for Concorde Hotel to get more ideas.
Specify your target audience
Generalized messages work around your potential guests but do not touch them impactfully. So you need to know your target audience and address them specifically.
Your guests can be international tourists, young budget travelers, business travelers, or couples seeking a romantic holiday. Each marketing effort cannot be appealing to everyone, so you should narrow your target down.
Your marketing campaigns will be more on point if you identify your audience accurately. Here we prepared a guide to know hotel personas.
You can also have a look at what nearest competitors are doing to attract which demographic. Then according to your material capabilities, you can consider which impressions you want your hotel to leave for the potential customers.
However, do not narrow too much so that you can find a balance between attracting more people and being accurate, and you can keep up with possible changes later.
Estimate your budget
You should strategically build your marketing budget. Budget templates are not easy to apply in the hospitality industry. So you will find your own depending on your hotel type, location, target segment, and more.
Before determining how to build your budget, you need to set clear and realistic goals, ideally every year.
Your hotel marketing budget will probably consist of all marketing, advertising, and promotional campaigns. Try to estimate your existing operating costs, such as marketing staff, software, website, and marketing research costs.
Separating these types of costs will help you see what remains of the total budget before you get going.
Effective cost and revenue management for hotels will also be easier when you know your marketing budget.
Find suitable mediums to spread your word
A hotel marketing strategy requires choosing mediums to play in wisely. Being an active player in all channels requires a lot of energy and budget. Also, probably your target audience is spending more time on some mediums than others.
Avoid acting randomly. Analyze your current performance to see what your audience and budget enable you to do. Google Analytics is still crucial to collecting and learning from your data. Then you can invest in various platforms to promote your hotel services.
Also, be aware of the changing trends in hotel marketing. Even though online marketing has become an established strategy for many sectors, including hospitality, the most effective practices are constantly changing. This is where dynamism is necessary for a hotel marketing plan.
Start An Email Campaign
Emails have been a reliable outlet for marketing since their early days. Nothing has changed in that aspect, and they are still alive and kicking when it comes to hotel marketing ideas. Email marketing
increase brand awareness,
generate website traffic and
engage your customers directly in a way you can control.
You need to start by creating a good email list. This list will include your past guests, people who have signed in on your website, and other people who might be interested.
Then send them special offers that might get their interest with a little extra incentive to book with you instead of your competitors.
Pro Tip: Monday is the best day to send these emails because it's the first day of the week when people go back to work and start checking their emails.
Don't Forget Mobile Users
When people are looking for hotel rooms, room services, and hotel amenities and closing a booking process, they use mobile devices.
It means you can't be unprofessional about it. While one-third of people use their mobile devices to book their rooms, some websites and emails are not optimized for them. This one goes hand in hand with the last entry, as nearly 1 in 5 email campaigns is not optimized for mobile devices.
Pro Tip: Your marketing should be just as hospitable as your establishment when it comes to providing people with what they need. So, hiring experts to optimize your mobile website and emails will be an excellent investment for you.
Offer Live Chat Service
Let's say your website is getting some traffic. While your potential guests are checking your website, people might have questions about your hotel.
Your website is your most important marketing channel. Use it effectively. People want immediate responses to their questions, even if the answer is somewhere on the internet.
Answer any questions that people might have about your establishment as soon as possible. Otherwise, they might give up on booking before you have a chance to respond. AI-powered chatbots are great marketing tools to improve the booking experience quickly. Take advantage of technology.
Manage Online Reviews
Potential customers can read all the reviews they want about your establishment just with one Google search. And they do. More than half of online shoppers read at least four reviews before finalizing their purchases.
Word of mouth is always a very convincing marketing method. Be on platforms where your guest can leave a review, like TripAdvisor, Google My Business, Facebook, etc.
And the best way to have a positive reputation is to have a 100% satisfaction rate with your customers. But as you know, that's pretty much impossible. There will always be unhappy customers, so you need to manage those negative responses.
Pro Tip: When responding to criticism, be polite, understanding, and apologetic. While it is not as direct as ads or email campaigns, in the long run, improving your reputation will be just as likely to fill those rooms as any other marketing campaign.
Also: Guest reviews are also great for having an insight into satisfaction in hotels as a metric that hoteliers can use to help maximize revenue and create repeat guests.
Encourage User Generated Content
People trust online content from friends and family members more than all other forms of brand messaging. Expectedly, your potential guests will rely more on online content your previous guests share.
Hence, you should encourage your guests to help you spread your message from their own perspectives.
User-generated content is quite powerful, especially on Instagram. Instead of using hashtags, you should focus on attracting your target audience through more creative means.
And an effective strategy to utilize good content is to get help from your guests to attract their own circles and the people who check you on social media.
Remember that it is firstly your satisfying service that will make your guests share their content about you on Instagram, but you can also encourage them maybe by offering some additional treats right away in the hotel.
Below we are continuing with more specific marketing ideas for hotel businesses.
Hotel Marketing Ideas
Having a steady stream of satisfied guests throughout the year keeps a fine hotel alive. That's where hotel marketing ideas come into play.
Indeed, hotel marketing is not a process that merely takes place before the visit. A solid, long-term hotel marketing strategy involves every single step of the hotel experience. And online marketing is a significant part of this solid strategy.
Whether you are trying to increase your bookings or are looking to get more traffic on your hotel's own website, marketing will be your bread and butter for better profits.
So, here are a couple of hotel marketing ideas that might help you kickstart your journey for increased hotel bookings.
Before the Visit: Hotel Marketing Ideas
The hospitality industry is deeply impacted by digital transformation. Therefore, you should consider the opportunities provided by technological advances while crafting your online marketing strategies.
Streamline Your Offer
While it is true that every guest that steps in through your doorway will have different needs, analysis paralysis is also a real thing. You are confusing them by giving people too many choices.
You don't want to make your guests tired just by looking at the options you offer. They might end up abandoning the idea of booking a room while trying to find the best deal.
Pro Tip: Your best bet is to categorize your rooms, combine your rooms with the services most likely to get sought out by your customers, and offer any additional services separately.
To make marketing simpler, keep what you are marketing simple.
Offer Virtual Reality Tours
Virtual reality (VR) is among the most recent innovations that touch the guest experience. Hotels around the world are increasingly engaging with this technology to create virtual tours to show their potential guests around.
As a significant study shows, virtual reality arouses positive feelings for a travel destination, and another research reveals VR has a solid capacity to gain customers' trust.
It is known that hotel websites with a virtual tour are visited more than those that do not offer this service. A virtual tour easily takes your webpage landers on a walkthrough of your entire hotel. And their chances of ending up in the booking engine increase.
The 360 degrees VR experience gives them a realistic perspective into your rooms and overall atmosphere. You should have a look at the necessary infrastructure to start offering virtual tours.
Here is our guide to using VR in the hotel industry.
Invest in Search Engine Optimization (SEO)
Direct bookings from your website will be a godsend if you want to cut costs and maximize profits. When people book their stays on your website through your own system, paying a commission to any third party is no need.
But how do you draw traffic to your website?
Travelers usually begin their search for accommodation on a search engine, so the power of SEO cannot be overlooked for a hotel website, given the high number of competitors.
If your website is optimized correctly, more potential guests will end up landing on your website. That's why it is important to create a useful SEO strategy.
Google offers a number of free tools for marketers, including Google Analytics and Keyword Planner. There are many other content marketing tools to help you with SEO. However, these tools are quite sophisticated.
With the help of a digital marketing expert, you can initially conduct keyword research and create an SEO strategy. SEO is a challenging world, and it's constantly changing. If you're planning to do it yourself, make sure you're updating your knowledge. Our guide can help you improve your SEO skills.
Moreover, link building is an important part of your SEO strategy. Using over-the-air programming and metasearch engines will help you enhance your website's visibility organically and drive direct bookings.
Pro Tips: You need to target specific keywords. For example, your potential guests may search for a "hotel with a beach" or "resort with a spa." Use your establishment's services and specialties by including them as keywords on your website to get higher positions for particular searches.
You can invest in some articles for your website to achieve similar results. Posting regular blog articles will improve your hotel SEO, which is a great opportunity for direct bookings.
Mobile-Friendly Website
Statistics show that the number of people using mobile devices for booking is increasing. This makes it clear that the hotels that do not have an engaging and fast-loading mobile website will be losing some potential guests.
The requirements of a good mobile-friendly website slightly differ from than requirements of a desktop one. Google prioritizes mobile-friendly websites while listing the search results.
Your mobile website should quickly provide the visitors with the key information, and give them easy, instant access to important functions. You should create a well-designed mobile website that instantly combines the most essential things, including a map integration!
Pro tips: A catchy mobile website needs to have a strong focus on a user interface for mobile, creating simple navigation. Ease of contact is essential for a well-functioning mobile website as well. The contact button should be clearly put so that your visitors can reach you about anything that they cannot see on the mobile website at first glance.
Learn more: 7 Tools Your Hotel Website Must Include For Bookings
Stand Out On Meta Search Engines
Meta search engines are third-party software that compares similar hotels on things like price, services, and customer satisfaction rates. They are a handy marketing tool to boost booking numbers, but you won't be the only ones using them.
A wide selection of hotels like yours will compete for the same potential guests. It means you need to stand out among others. And how to do that?
Set your prices to competitive rates. People are more likely to book if they feel like they are getting a good deal for the service they are purchasing.
Have professionally taken photos and videos on your profile. Give people a perfect idea of what staying in your place will feel like. Capture the best aspects of your hotel and put them out there for the world to see.
Display the unique characteristics of your hotel on your profile. Maybe it's a gorgeous view, and maybe it's an amazing spa treatment. Whatever you have that others don't, promote it!
Pro Tip: Meta-search engines don't take a commission from reservations. Instead, they usually work on a pay-per-click basis for the traffic they steer in your direction, which means you get a better bang for your marketing buck. So consider meta search advertising to increase your hotel revenue.
Allow Bookings on Facebook
While some people think Facebook doesn't have the cultural relevance it had in the early 2010s, that could be further from the truth. Facebook is, in fact, still the biggest social media platform with 2.9 billion monthly users.
But just having a Facebook business account is not enough. What if we told you the platform offers a booking service for hotels? By setting up a nice profile for your hotel and providing your followers with the ability to book their stays there, you create an additional visitor source.
Reward Direct Bookings
Direct bookings are great in the sense that you are not required to share any portion of your profits with third parties. Therefore, it is a wise strategy to reward direct bookings. You can offer lower prices, special discounts, and upgrades for the visitors who directly book.
Do not forget to put a little welcome gift in their room. Your gained hotel guests are still an important part of your hotel marketing, brand awareness, and social media presence. Also, direct bookings can be a part of your loyalty programs.
During the Visit
You lead many bookings through digital strategies. During the pre-trip phase, make sure you offer your guest know what makes your hotel special.
Now it is the opportunity to satisfy your customers on arrival. The tips below apply to the experience of your visitors during their stay in your hotel.
Practical Check-In Check-Out
As the very first and very last procedures in a hotel, check-in and check-out are crucial for the guest experience. Time is extremely valuable, especially for corporate visitors or elderly customers who would not want to wait.
But of course, every customer group would want to stay at a hotel that offers quick and easy procedures.
A flexible digital check-in and check-out system can be quite valuable in saving time for both your customers and employees. Self-check-in via terminals in your hotel or mobile self-service websites are popular among young visitors.
Plus, offering early check-ins and late check-outs is a great way to make people choose you as it is a hassle for guests to plan their arrival and departure times. This kind of arrangement will increase your satisfaction levels, therefore, brand loyalty.
Create "Instagrammable" Moments
Social media is a powerful aspect of marketing. However, while everybody knows that it is important to have engaging accounts on every big platform, only a portion of them know how to do social media marketing smartly.
Create moments that your guests might want to post about. Or provide them with a backdrop where they would love to get their picture taken. Their followers will get curious about where they are, and your hotel's name will get thrown around in casual conversations without the need to buy ads.
Let your customers speak for you to get your name out there.
Pro Tip: If you provide people with moments that they want to share on their feed, you are not only reaching their followers. You are also reaching their future selves who will look fondly at the times they have spent at your hotel.
Master the power of social media for hotels: Guide to Social Media Management For Hotels
Accompany the Customer Journey
Once your guests arrive, your staff should check your guests' satisfaction levels regularly. You should provide them with an excellent experience, offering the best customer service possible. If you give them an unforgettable travel experience instead of a bed and roof, you will attract more people and increase your bookings.
We started with the domination of experience in marketing. It's so crucial that the best hotel now can be defined by the experience it offers. The definition of luxury is also changing with the intervention of experience. Make sure your place's experience is unique.
Pro tip: Promoting unique activities at your hotel is a great way to provide a stellar customer experience. Take a step ahead of your competitors around. For example, depending on your target audience,
organize such as wine, craft beer, or liquor tastings, networking events, chill-out parties, etc.
If you are a business hotel that hosts conferences and seminars, and guests are bringing their partners, you can offer them do-it-yourself art or craft classes.
Or, if your visitors are families with children, you can hold family happy hours with milk and snacks.
Engage with the Local Activities
Guests usually ask hotels to have an idea about the local scene. Firstly, you should make sure that your team is familiar with the area enough if they are not already locals.
It is an opportunity to exceed your guests' expectations by going beyond what is happening on your property and engaging with local activities. Depending on your location and most favorable season, you can consult your local tourism board and see what is happening around you.
Then you can develop themed events that align with your hotel brand and consider partnerships with other businesses around.
Forming alliances with local businesses is a good way to use the advantages of your location. It is beneficial for both parties. Your local partners could be small shopping spots or cafes. You can develop a joint campaign such as printing coupons or running a giveaway on a social media platform.
In this way, you improve your guests' experience and spread your brand message to a broader clientele.
After the Visit
Your relationship with your guests does not end once they check out. On the contrary, it is a critical moment to create a loyal group of customers. After check-out, make sure you establish contact with your guests after the trip to thank them. This contact has both online and on-site benefits.
Ask for a review
What we are saying differently than the earlier review subtitle is asking for a review directly and clearly. Managing reviews is a thing, and asking for a review is another.
It's nothing to be shy about.
You should ask your guests for feedback and encourage them to give reviews. Collecting online reviews is a significant aspect of your established online reputation. It is an opportunity for potential future guests to see your attitude.
You can train your teams on how to ask for a review. It deserves the time and effort invested in.
Make An Effort To Increase Re-bookings
You should know by now that it is much cheaper to retain a customer than to gain a new one. Repeat customers will lower the marketing costs to keep your rooms full. The value of repeat customers is outstanding.
When a satisfied customer leaves the premises of your business, it should be your number one priority to get them back next time they need a room. Your target audience for this might be business people who visit the same cities every month for meetings or families who have a favorite vacation spot.
Pro Tip: Show how much you appreciate their stay by offering repeat customers discounts on their rooms or dining experiences. Maybe leave a note in their room to let them know you remember them from the last time. Personalize their stay at your hotel to make them feel special.
Loyalty is much appreciated in the accommodation industry.
Key Takeaways
The hospitality industry is fun, dynamic, and challenging. Therefore, all the actors in the hospitality industry need to be adaptive enough to come up with strategies to meet the fast-changing needs of the sector.
We talked about the essentials of hotel marketing and gave important tips pre-, during, and post-visit. Following these ideas meanwhile finding your voice will help you enhance your brand image and gain the respect of travelers around the world.
You will have countless ways to go with your hotel marketing ideas, and each one of them will yield results to some degree. The important part is to find what way best suits your company.
To get the best results, make sure you;
Are direct with your message,
Don't confuse your customers with too many unnecessary options,
Understand the value of a loyal customer,
Diversify the ways you market to people,
Optimize your outlets, so they work for everybody,
Respond to your customers quickly at any time,
Deal with negative responses professionally.
We are an experienced agency in the hospitality industry, and our team is ready to support you with efficient hotel marketing ideas. Contact us to learn more.
As a hotel website agency, we expect you to trust us and leave yourself to us to present your hotels in the best way in the digital world and make the user experience positive.

Sign up for Gourmet Newsletter
Subscribe to our newsletter to get access to exclusive content.
Get this newsletter