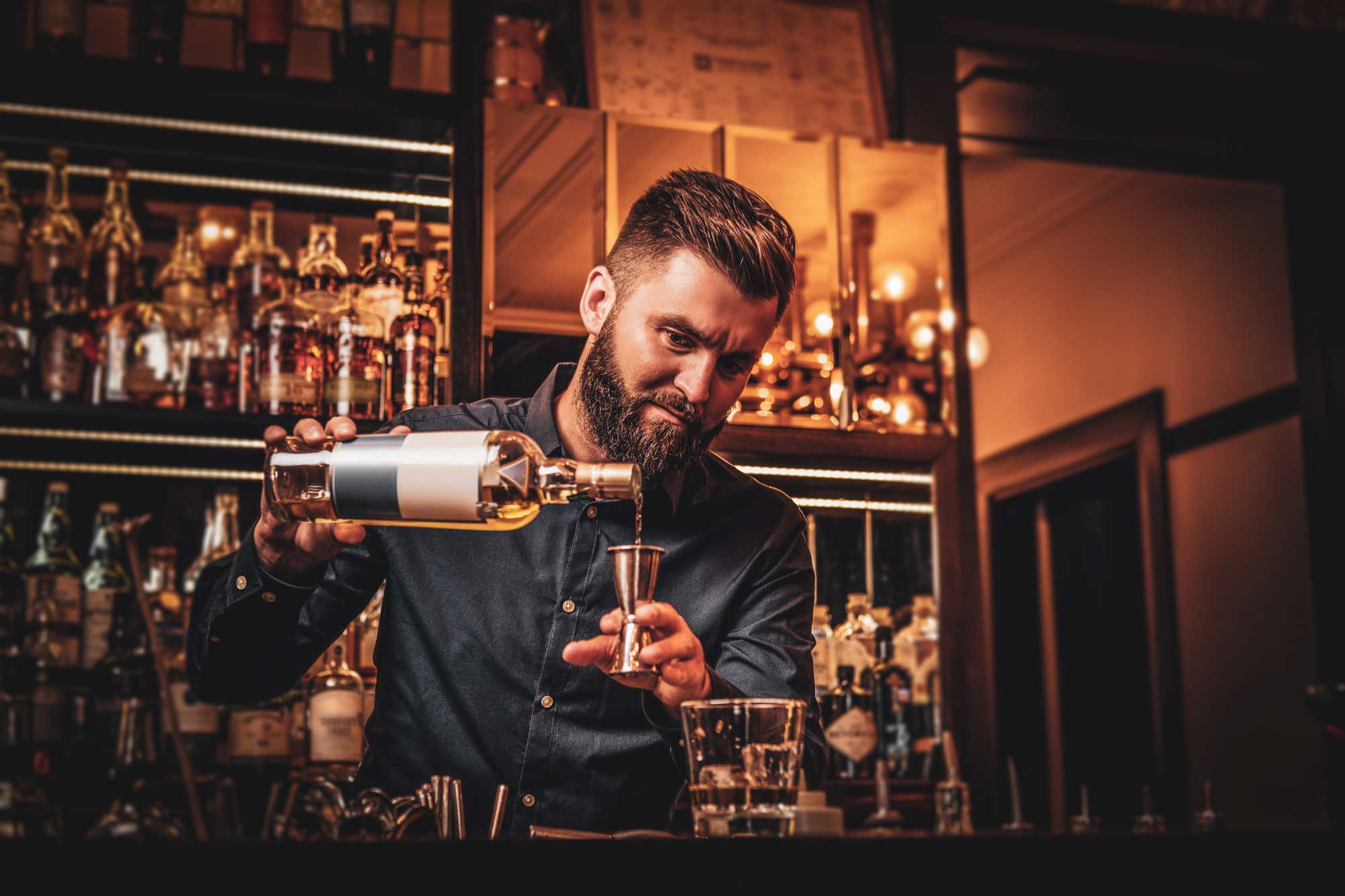 Bar marketing ideas will help you reveal your bar's potential and make it more inviting for your loyal and new customers.
You may call your bar a tavern, lounge, gastropub, nightclub, gin mill, dive, or another term for a bar that offers alcoholic beverages. But, no matter how you call your bar, it is a gathering spot for people to chat, drink, dance, and even find romance. And your bar marketing strategy should focus on this main scenario.
How we socialize is changing shape.
New spaces, where people spend their time, are emerging. Fancy hotel lounges, raves, restaurants, pop-up nightclubs, and privately sponsored parties compete with the classic bars. On the other hand, the bars adapt to the change and create new concepts to attract more people.
As a bar owner, you need to follow up on the trends both in your bar and how you market your bar.
Reshaping Your Bar Marketing Strategy
Start from scratch and reshape your strategy to ensure that your efforts succeed. First thing first, and here are the steps to take while starting.
Concentrate on Your Target Audience
Each bar has its vibe that attracts a specific target audience. Accordingly, it would be best to address your people rather than everyone.
Repeat customers are the lifeblood of a bar, so your promotions must appeal to both existing customers and newcomers who respect the type of establishment you're running.
Start with defining your audience. For example, are you hosting business people, young folks, or the elite class? Creating a persona is usually the best way to find your target audience. You can start with answering these questions:
How old are they?
What are their financial status and their job?
Are they single or married with kids?
What do they do in a day and in their leisure time?
How do they choose the products and services they pay: price, quality, reputation, or something else?
Try this awesome Make My Persona website, and create a buyer persona that your entire bar can use to market, sell, and serve better.
Define Your Goals
Promotions with the sole intent of raising sales are doomed to fail. To make bar promotions worthwhile, you'll need to set some measurable targets. Then, they will ensure that you spend your money and energy on a promising project.
Well, what are your objectives? The question-answer technique helps you see the path that will bring success. That's why we recommend you take your time to find out the best answers.
Be specific, be realistic.
You may target to
Create a buzz among your target audiences, such as corporate types, hipsters, club kids, sports fans, and others,
Get people to arrive earlier and keep them longer in your bar,
Persuade customers to spend more money on the foods and drinks,
Create bonds with your guests,
Provide an opportunity for customers to give back to the community
Encourage them to try new tastes on the menu.
I know they all sound fantastic to achieve, but it's always best to focus on one target on each promotion. The good news is you can have various promotions with various targets. First, however, you need to know the specific target of each.
After defining your goals, you may evaluate marketing ideas to see if they can help you achieve your objectives while remaining affordable and feasible.
Bar Marketing Ideas to Reach Your Goals
So, to help you get started, here are marketing ideas to make your bar more inviting.
Social Media Ideas
Join Social Media
If your bar is still not getting social online, join social media as soon as possible. Social media marketing is an evergreen field, and it will feed your business in many ways. It's even better if you're active on multiple platforms so that your clients are more likely to see your bar.
Here are a few of today's most popular platforms:
TikTok is a great way to reach out to a younger audience. Many bars have gained popularity as a result of TikTok. It mostly focuses on short-form videos, which are frequently hilarious and offer tremendous creative opportunities.
Twitter is a multi-purpose social media network that excels at sending brief messages. You may discuss your items, announce new discounts, and interact with other users on the platform. It is usually the default pick if you're unsure which platform to employ because of its large readership, advertising choices, and versatility.
Another general-purpose social media network that works well with text, video, and photographs is Facebook. It also offers powerful advertising options, and providing help on Facebook is simple. This platform has a large readership that is a little older than others, making it ideal for adult audiences.
Instagram is more focused on photos and videos than other social media platforms. It's a fantastic alternative if you want to show off your available drinks and offers while also giving folks something to look at. Instagram engagement is a little different than other platforms, but it's ideal if you just want to show off your stuff.
Pinterest is a one-of-a-kind platform that focuses on sharing visual material like photos. People looking for ideas are the primary users of this platform. Still, it may be a shockingly effective tool to promote your bar and events.
YouTube is another possibility. Combining these sites with YouTube videos is a fantastic concept that we highly recommend. If your bartender has attractive shows, you can upload them to your YouTube channel. The process of preparing cocktails, or a lovely afternoon in your bar, anything can be great content for your channel.
These are the most widely used social media networks to give serious consideration. However, it helps to choose those where your target audience spends time for efficient strategies.
Top Tip: Go beyond just posting on your profile on social media and interact with other related brands and your potential customers.
Tell Your Story
People are not on social media to see boring stuff. So let them enjoy their time with beautiful stories. Show people the story behind foods and drinks on the menu, personal stories of people working in your bar or loyal customers.
Upload the process of crafting a cocktail, the story behind a dish, or even a minor blunder by your bartender practicing juggling. And enjoy the engagement with your audience in a more personal way.
Not to add that video is the new sharable content buzzword. These videos will increase not just the number of people who visit your social media pages but also the number of people who visit your bar.
Organize Online Competitions
You can move competitions out of the bar to promote your bar. For example, you can organize an online campaign and create a competition hashtag. This challenge might be anything. Let's say,
creating the wackiest drink, a customer could concoct if they were the bartender

reimagining a classic cocktail or mocktail.
The award may be gift cards for your bar, a month's worth of free drinks for the winner, or even a mention on all of your social media accounts. You can do this by creating a hashtag based on your bar's name and then allowing participants to advertise your bar to its most tremendous potential.
Top Tip: These competitions also help you increase your follower numbers. More followers, more visibility.
Influencer Engagement
We have already started talking about visibility. To reach more people, you should never underestimate the power of local influencers. They will help promote your bar a long way because they have a large fan base, and people believe what they say.
Allowing them to see the other side of the bar,
Getting your team and the inner workings of your bar on their channel, and
Providing them with the finest possible experience would imply that their entire fanbase would be aware of how your bar operates.
A food blogger's or a local influencer's endorsement will generate the buzz that your bar requires. However, you need to cooperate with influencers whose followers are your customer base. Let them in your marketing plan wisely.
Website-Related Ideas
Create a Blog
By keeping your blog casual and engaging, you can market your bar and encourage people to adore it. You can share funny stories about what happened in the bar, discuss a new dish, educate your guests about cuisine, and so on.
As one of the local businesses, you can also include local attractions and events in your blog. In this way, people looking for this information can discover you.
A blog for your bar can help you
attract regular readers and patrons,
generate a discourse among your customers, and
boost your internet visibility through search engines.
Understand Local SEO
Local SEO is crucial for bars as they are local businesses. Even if you have a bar chain located in various locations, you will be local to these places.
Even if people are familiar with your bar and intend to visit, they may utilize Google to look up information such as opening hours. As a result, you must be easy to find.
People don't look up after the first page on the search results. Therefore, you will have a significant competitive advantage over your competitors if you are listed on the top.
SEO requires time, commitment, and knowledge, but if you're ready to put in the effort, you'll be rewarded with a slew of free clients in the long run. In addition, being well-ranked by Google carries much weight, so your potential clients will arrive on your website trusting you right away.
Top tip 1: Make sure that you are on Google My Business to easily help your target audience discover you by appearing on Google Maps.
Top tip 2: Use keywords relevant to your bar while optimizing your website. To locate the finest terms that clients are looking for, use Google Keyword Planner.
Use the words and phrases you uncover in your study to improve your website.
Make Customer Service A Top Focus
In the restaurant and bar industry, referrals through online reviews are critical. Good reviews on Yelp, TripAdvisor, and Google are some of the most prominent examples of the platforms to get reviews for your excellent customer service.
When new bar guests visit your restaurant and have a pleasant experience, they are more likely to post a positive review. In this way, they will encourage others to attend as well. Word of mouth is a very efficient way to gain attention. While it is not direct marketing for your restaurant, it boosts your reputation among potential customers and persuades more people to visit.
We strongly advise that you teach your employees to provide excellent customer service. Because this might be incredibly stressful for your employees, it's critical to provide attractive compensation and perks to keep them motivated.
Send Promotional SMS and Emails To Your Target Audience
Even if you're running special offers or having events, all of your bar marketing efforts will be for nothing if you don't advertise them properly.
SMS and email marketings are great for creating direct contact. However, sending bulk SMS and emails to your customer database doesn't promise more sales. The reason for this is that the promotional message could be irrelevant to your customers!
For example, if your pub is throwing a Ladies' Night, you should send an SMS or email to your women clients about it, not to the entire database. Targeted marketing strategies yield a 15-fold increase in return on investment.
In-Bar Ideas
Create Loyalty Using A Reward System
As a bar owner, you understand the value of repeat customers in terms of revenue. A loyalty program is a great strategy to keep guests returning to your bar.
A digital stamp card is one way to do this.
The concept is straightforward: You just offer your clients a free stamp when they purchase a drink or spend more than a specific amount of money. Then they get an award after collecting a certain amount of stamps.
It's an excellent program for a variety of reasons:
Well, who doesn't like giveaways?
Customers are familiar with the concept and understand how it works right away.
It's a simple application

to implement for bartenders.
Managers and owners can quickly calculate the earnings on each drink to develop a program that benefits both the bar and the customers.
And you gain loyal customers.
The idea is fascinating and straightforward enough to promote on social media, Yelp, or giant posters in your bar. Let all your promotions communicate with each other.
Create Huge Posters For Your Business
You can deck out your bar with giant, eye-catching posters to attract the attention of passers-by. Indoors can be used to display some of your newest menu items, combos, discounts, and prizes.
Here are some simple suggestions to consider:
Make sure your restaurant's branding is visible on the poster to make it more recognized.
If you're going to include photos of drinks, make sure they're of good quality and best sellers.
Make the content as legible as possible in huge type so that people can read it from a distance.
Add a QR code to the bottom of the page so that visitors may scan it to learn more. QR code is also great to combine online and offline bar marketing ideas.
Save your poster's digital image so you can use it for web marketing as well.
Add as little language as possible; keep it as simple as feasible, and shorten things whenever possible.
These are just a few basic ideas and suggestions to help you produce outstanding posters and maximize their effectiveness.
Allow Your Bartenders To Stand Out
There are a few ways to make your employees shine and stand out, but each strategy is dependent on how you want to go about things. For example, if you have a lot of diverse employees, you'll need to figure out a cost- and time-effective strategy to help them stand apart.
Here are two simple ideas:
Ensure that all of your employees wear name tags so that it is easier to address them by their first names.
Allow your employees to be creative and offer them the freedom to do things differently as long as it does not interfere with the customer's experience. For example, some bartenders have

signature cocktails

or methods of mixing. Allowing your employees to be creative and show off their skills can bring in more customers.
Photo by energepic.com from Pexels
Top Tip: Value your employees. That can be a great way to stand out because many bars don't treat their employees well, which can harm their reputation.
Run Happy Hours
Everybody loves Happy Hours. It's a classic in the list of bar promotion ideas. Running a happy hour is one of the most tried and true strategies to market your bar and bring in many people on quiet nights or even during the day. Your potential customers can turn into loyal customers after a few Happy Hours.
Such bar concepts increase liquor sales and serve as brand promoters by drawing attention to your brand. You can promote it on your social media platforms and even send personal messages to your frequent customers as a reminder to come to see you. You may execute these ads with your restaurant management software by utilizing the customer information currently stored in your POS.
Here you can find 15 Examples of Happy Hour Marketing.
Include Your Bar In A Bar Crawl
The Otley run in Leeds and the Monopoly Pub Crawl in London are just two examples of well-known bar crawls that attract thousands of visitors each year.
The Monopoly Pub Crawl
You may not have enough space in your bar to accommodate many additional people if you participate in a well-known bar crawl. If you aren't already a part of one, try collaborating with local pubs and bars to see if you can start a local community in your neighborhood. As a business owner, it's a significant step to be innovative in the industry.
Make Use Of Delivery Service
Yes, that is right. It is now possible to drive cocktails and other beverages to your customers. It's pretty simple.
Food delivery services are an excellent way to promote your business and get the word out. You can choose a variety of different delivery providers. Some work on a national basis, while others are focused on a specific region or city. Make sure you sign up for the most beneficial ones to your bar and are within your budget. If you're employing a costly delivery service, keep in mind that you may need to raise the price of your menu items.
Some bar owners try to build up their delivery service with their drivers and eCommerce software. But this isn't the same as working with a delivery service because many of your regular customers may use one of the popular delivery apps.
Discoverability is one of the key benefits of employing a delivery service. When people in your neighborhood use a delivery service app, they're looking through all of the bars in the area. They can filter by drink type, location, pricing, and other factors. That makes it much easier for customers to find your bar to buy from you online. Or, if you create a good first impression, they may consider visiting you in person in the future.
Bring In A Sports Theme
Supporting local professional, college, and even high school teams and alumni are all good marketing ideas for your pub. Imagine it as one of your theme nights. Especially if you own a sports bar, you definitely need this bar marketing idea.
Athletes seek to break new records, so try some of these promotional ideas to break your own:
Drinks and beverages should be named after athletes.
Host replays of classic games during idle moments when local teams aren't competing.
Organize sporting events for pay-per-view (you can even charge extra for people to watch).
Organize live events at which athletes will appear and mingle with your clients.
Colors from the team should be used to decorate the bar.
Use team-themed clothes as a prize in sports trivia or prediction contests.
During legendary athletic rivalry and playoff games, offer drink and food promotions.
Host Mixers
Everybody loves live music. You can target bars and singles because they have a specific bond. Hosting these mixers could be a terrific way to promote your brand at the bar. Host a mixer where folks may come to unwind, enjoy a drink, and meet new people.
Then, you can advertise it on all of your social media accounts and ask people to bring their friends. A party like this, complete with games and the opportunity to meet new people, will likely attract attention and promote your bar among your target demographic's younger demographic.
You can even prepare drink specials for these nights to make it even more enjoyable. Like we said while starting, bar marketing ideas are open to adopting your creative mind. Just new menu items can bring amazing results when combined with marketable events.
Beer Specials and Bouncebacks
Bouncebacks are a common tactic used to entice bar patrons to return. You may automate bouncebacks for newbies and reward loyal customers using digital marketing techniques. For example, you may offer a $5, $10, or even a $20 voucher on the customer's next visit, depending on your prices. If you like, you can limit certificates to food or beverages. You could also run a special based on a signature drink only available for a certain amount of time.
Beer specials have a large following, and you can tailor your offer to your client's preferences. Organize a craft beer tasting or a "skunk beer" promotion for popular domestic brands. Serve beers from all over the world to your clients. You can also host wine tastings, birthday parties, and other special events centered around beer, wine, or inventive cocktails. Organize a competition for the creation and naming of a signature cocktail. Bar games are a classic. Make use of them.
Photo by Ainis Jankauskas from Pexels
According to a new analysis from Fishbowl, hospitality organizations are missing out on a massive potential by neglecting to take advantage of BOGO deals. Owners of bars can offer buy-one-get-one-free deals on trademark drinks, gourmet foods, and even souvenirs that promote local sports teams or causes. They also discovered that 49% of hospitality marketers offer free incentives to their customers, whereas only 3% offer BOGO promotions. Pubs and restaurants have massive potential because of the disparity in incentive offerings.
Create A PopUp
A pop-up is an outside business that operates for a limited time in a temporary location. For example, it could be a neighborhood eatery, a homebrew shop, or a clothing business. The temporary place, in this case, is your bar, and the period is an evening.
You're providing direct, exclusive access to a product to your customers and bridging gaps in the business community. Restaurant pop-ups are especially useful in bars with no or a restricted food menu. They help reduce high overhead costs.
Organize Karaoke Parties
Karaoke is one of the top bar promotion ideas as global trends collide. It's the next big thing in fashion. Karaoke evenings will surely provide your bar with the visibility and edge it requires, as millennials seek out locations that provide this experience. Karaoke is a wonderful group activity, so expect a large number of friends to show up.
Furthermore, because of its extensive nature, it is an excellent approach to not only attract new regulars to your bar but also to retain existing ones. On a weekday, you can host special karaoke evenings to spark the interest of the corporate population, who can come to the event to unwind after a long and exhausting day.
A Summary Of How To Market Your Bar
It's not easy to develop interesting marketing strategies for your bar. Still, we hope these pointers have given you a solid place to start.
Here's a quick rundown of all the concepts we've discussed today:
Social Media Ideas
Bars are no exception to the rule that social media is one of the most effective strategies to grow a company. You'll uncover an astounding quantity of marketing possibilities on every platform by using everything that social media has to offer.
Join Social Media

Tell Your Story
Organize Online Competitions
Influencer Engagement
Website-Related Ideas
Another key component that should not be forgotten is your website. Make sure to update your website on a regular basis and offer your visitors useful features and information. Along with your website, you will also need to focus on Google My Business and Google Maps. Gaining positive reviews on the platforms will make your bar interesting for more people.
Create A Blog
Understand Local SEO
Send Promotional SMS and Emails To Your Target Audience
Make Customer Service A Top Focus
In-Bar Ideas
We have mentioned some of our favorite in-bar concepts. These are usually aimed at making a better experience for existing customers, but they can also be used to attract passers-by from the street. What is great is to mingle in-bar promotions with social media and other online marketing content. Harmony across channels helps you deliver your message.
Create Loyalty Using a Reward System
Creat Huge Posters For Your Business
Allow Your Bartenders To Show Their Skills And Stand Out
Run Happy Hours

Include Your Bar In A Bar Crawl
Make Use Of Delivery Service
Bring In A Sports Theme
Host Mixers
Create A PopUp
Organise Karaoke Parties
We're a restaurant marketing agency with over a decade of experience working with restaurants and bars. Take a look at our blog to learn about some of the things we've learned along the journey.
If you would also like to read about improving your restaurant marketing, check out these 30 tips. 30 Creative Restaurant Marketing Ideas: How to Successfully Market a Restaurant in 2021
Sign up for Gourmet Newsletter
Subscribe to our newsletter to get access to exclusive content.
Get this newsletter