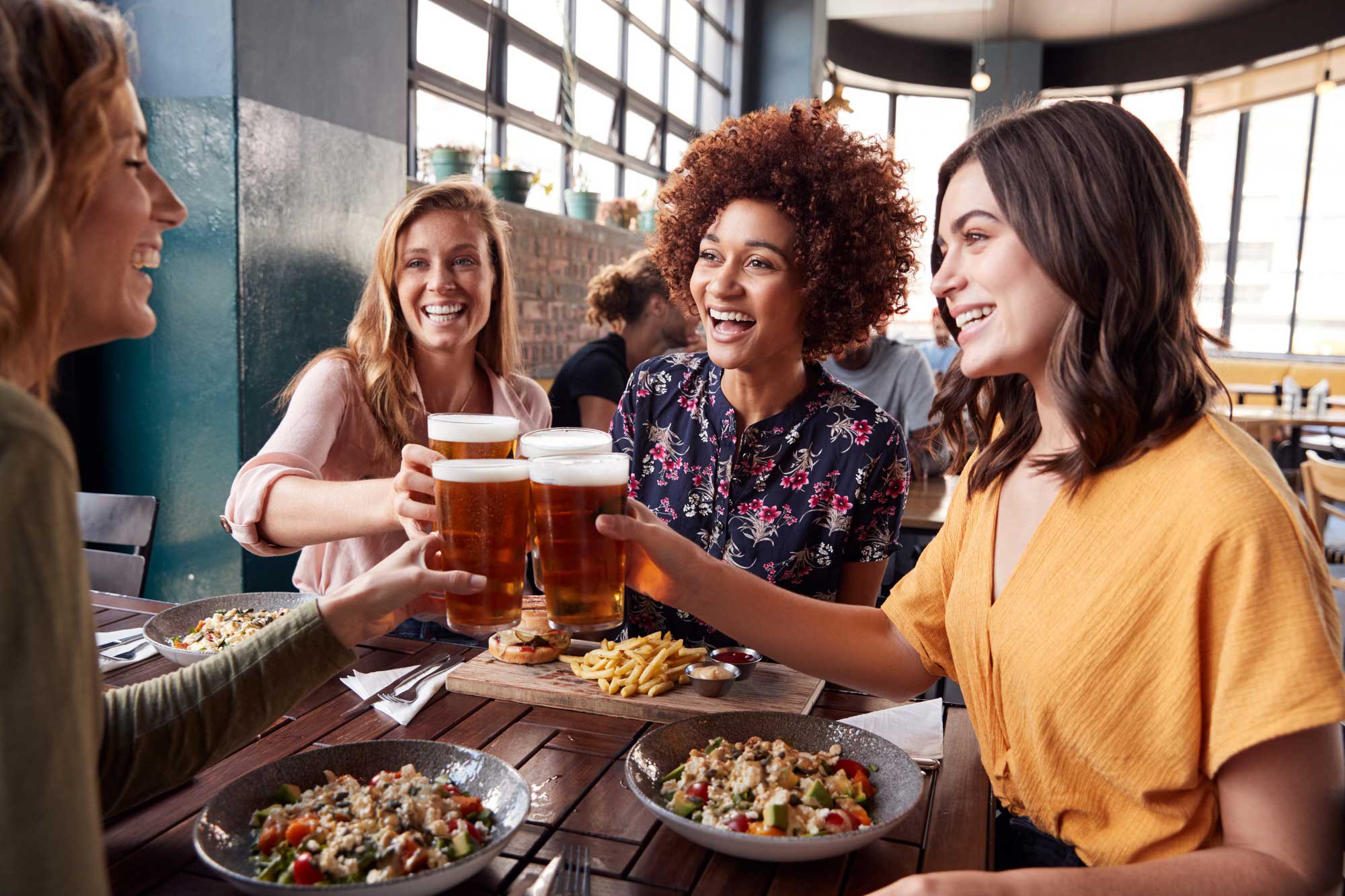 We're a Restaurant Marketing Agency that's worked with restaurants for over a decade. Follow our blog to soak up some of the lessons we've learned along the way
Restaurant Marketing Ideas
The restaurant business is an extremely competitive industry. No matter where your restaurant is located, there are likely dozens of competitors nearby that are all fighting for the same audience. As such, it's important to use unique marketing ideas in order to truly stand out from other restaurants.
So to get you started, here are 30 suggestions to help your restaurant get noticed.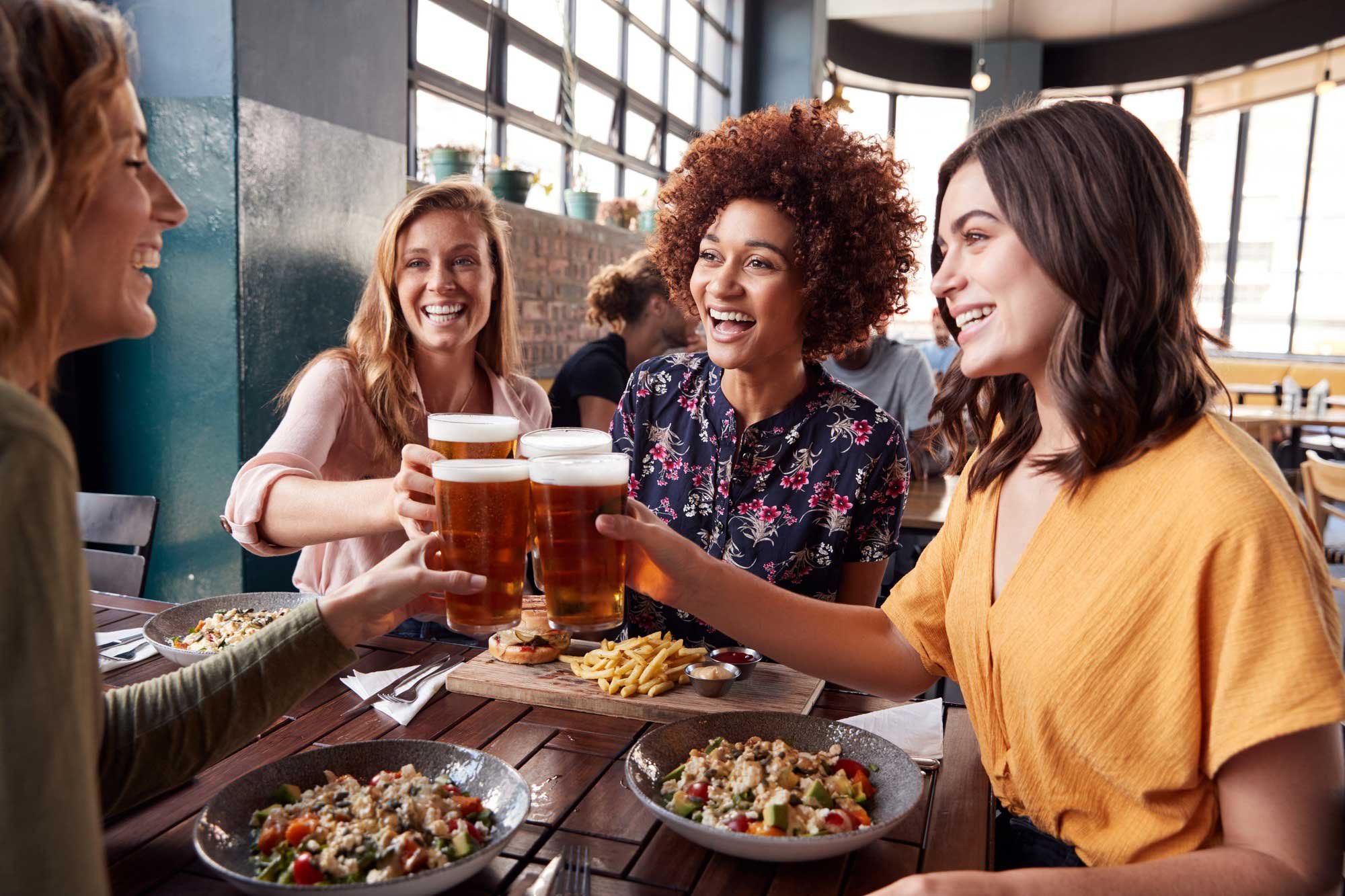 In-restaurant ideas
1. Establish a loyalty program to offer your customers rewards
A loyalty program is a fantastic way to get your customers to come back again and again. It gives them more incentive to return because it feels like they're being appreciated, and it could also offer them special rewards and unique promotions that would otherwise not be available. There are a number of ways to approach a loyalty program and how it works will ultimately depend on your personal preferences.
For example, the most simple loyalty program could be a card system that is stamped every time your customers make a purchase. After five purchases, they could get a free meal or drink with their food. This is great if you don't have many items on your menu or if you do similar dishes that are around the same price. Alternatively, you could make a more elaborate loyalty program that offers recurring rewards or one that allows your customers to save up points that can be redeemed for free gifts or meals.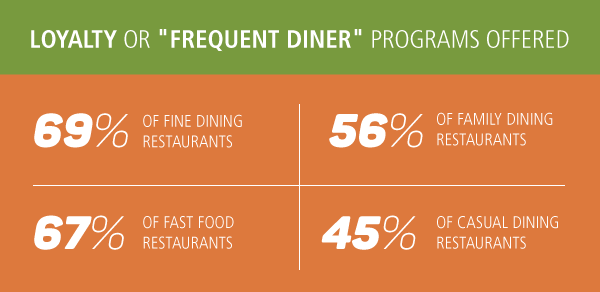 You can also do a giveaway for anyone who does 20 purchases, a t-shirt or you can offer discounts for a year. If you do something bigger, make sure you also have a unique hashtag for the giveaway and ask your customers to share a post on social networks with your unique hashtag each time they do purchase.
The key here is to make the program feel rewarding whenever your customers use it. They should feel like they've joined an exclusive club when they sign up for it, and it should encourage them to visit again and again. It should also be interesting or unique enough to advertise about it on social media, yelp or with large posters inside of your restaurant.
2. Design large posters to use in your restaurant
Your restaurant can be adorned with large and unique posters in order to draw the attention of people passing by. They can also be used indoors to show off some of your latest menu items, combos, discounts, and rewards. It's a fantastic way to attract more attention but can also be informative as well. Here are some simple poster design ideas and tips that you should follow:
Make sure the poster uses similar colors and designs as your business.
Ensure that your restaurant logo design is on the poster somewhere to make it more recognizable.
If you're going to use food photos, make sure they're high-quality images.
Make the information as clear as possible in large font so that people can see what it says from afar.
Add a QR code at the bottom so that people can scan it for more information.
Save the digital image of your poster so that you can use it for online marketing as well.
Don't add too much text; keep it as simple as possible and shorten things when you can.
Printing single posters can be expensive compared to bulk purchases, so do a bit of research to see where you can get the best deals.
Protect your posters so that they're not at risk of being damaged.
These are just a few basic ideas and tips to help you create great posters and make the most use of them.
3. Let your staff shine and stand out
Humanizing your staff is always a good idea. It shows that you care about your staff, it gives them a chance to stand out and be themselves, and it also attracts people to your business. There are a couple of ways that you can let your staff shine and stand out, but each method really depends on how you want to approach things. If you rotate between many different staff members, then you need to figure out a cost and time-efficient way to help them get noticed.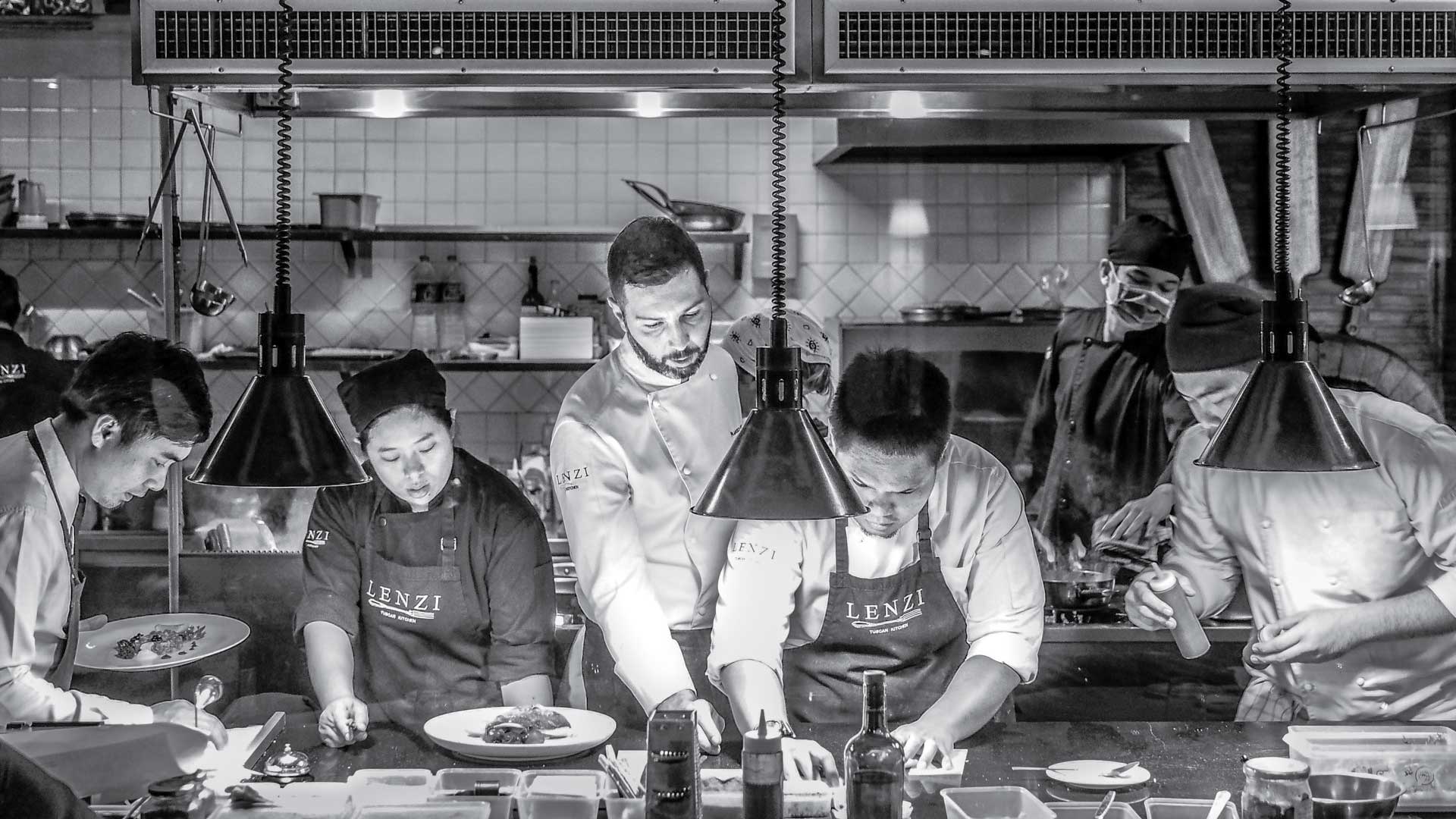 For starters, make sure your staff members all have name tags so that it's easier to call them by their name. Secondly, ensure that you don't have rigid rules and standards that you absolutely must meet. Let your staff be expressive in how they do their work and give them the option to do things differently as long as it doesn't hinder the customer's experience. You should also make sure that you address any concerns that your staff have. For example, if they're worried about something within the business then it helps to speak with them and be transparent so that they don't have any worries or concerns on their mind. This allows your staff to work without having an issue looming over their head.
This kind of approach shows that your restaurant cares about its staff. This can be a fantastic way to stand out because there are many eateries that don't treat their staff properly which can cause reputation problems. The better you treat your staff, the more likely your customers will notice your business.
4. Work with food delivery services
Food delivery services are a fantastic option for your marketing efforts and getting the word out there. There are many different delivery services that you can use. Some of them work on a national level while others are specific to a region or city. Make sure you sign up for the ones that make the most sense for your restaurant business and are within your budget. Keep in mind that you may need to increase the cost of your menu items if you're using an expensive delivery service.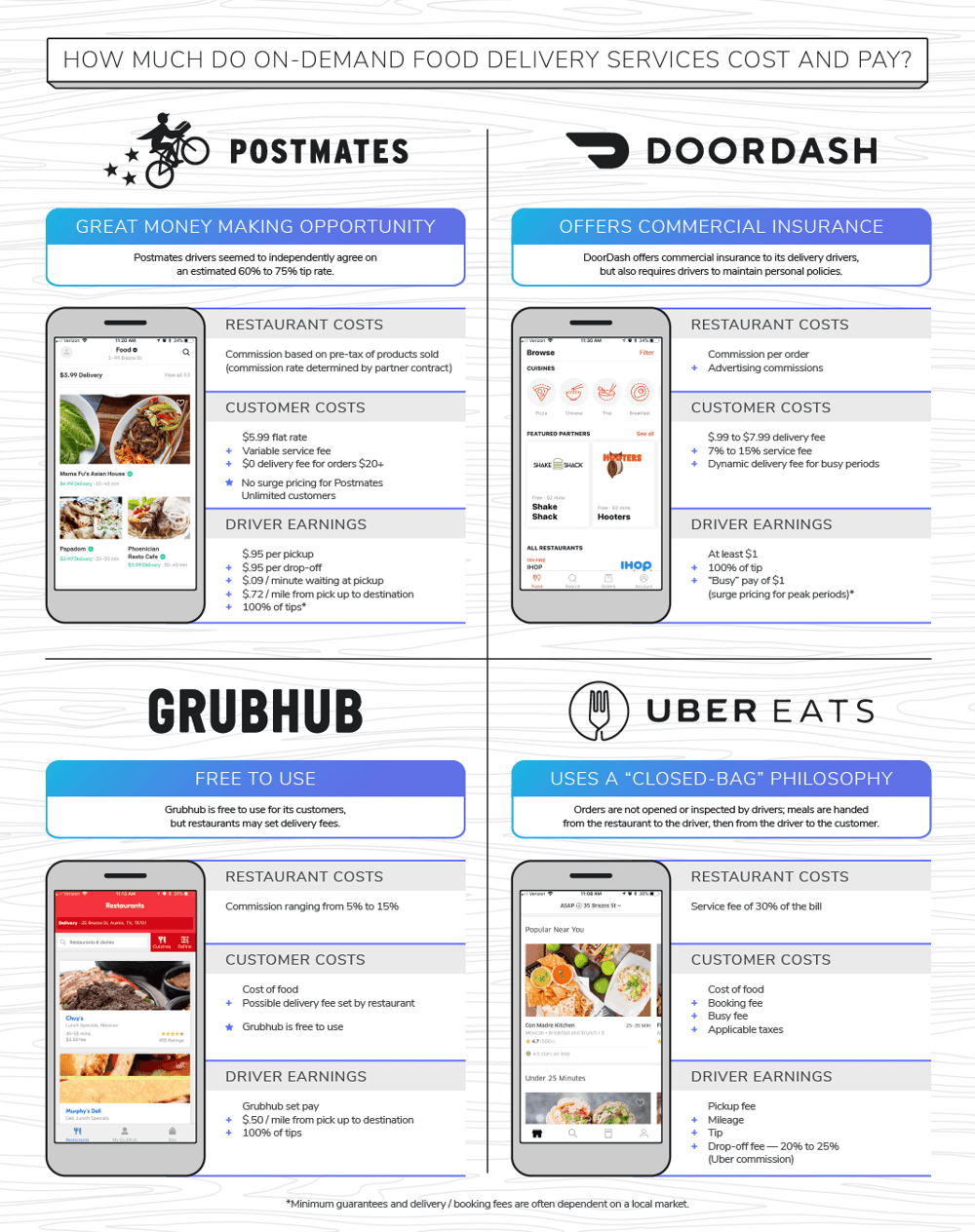 Many people use delivery services these days. If your restaurant doesn't offer home deliveries in some capacity, then you're going to get a lot less business and you won't reach your maximum potential. Some restaurant owners try to set up their own delivery option using their own drivers and eCommerce software, but this isn't the same as working with a delivery service since many of your loyal customers might be using one of the popular delivery apps.
This is because one of the major advantages of using a delivery service is discoverability. When people in your local area open up a delivery service app, they're browsing all of the restaurants near them and they can filter by cuisine type, location, price, and so on. This makes it much easier for them to discover your restaurant so that they can order from you online, or they might consider visiting you in person in the future if you set a good first impression.
5. Keep track of your restaurant stats and create events around them
Restaurants can generate a lot of statistics. For instance, you can see just how busy you are on certain days of the week, you can see which season is the most popular, and you can even see what menu items people love. These statistics are a fantastic way to build up information that can be used in the future to help create events, highlight menu items, or even draw in more people on certain days.
Here are a couple of suggestions on how to use all of this data that you're generating:
Look at your least popular menu items and figure out why they're not selling well. Consider running promotions to highlight them or include them in meals and offers.
Identify the quietest time periods and days of the week, then set up discounts and happy hours to draw more people in during those times.
Look at your most popular menu items and use them on social media, website and on posters to show off the meals that people love.
Highlight popular food items on the website
There are plenty of other creative ways to make use of your restaurant stats, but this should give you a rough idea of where to start. You may need to establish some kind of analytics system to keep track of this, but any modern restaurant management software should help you with this.
6. Set up a food truck in another potential location
Another fantastic way to show off your business and get noticed is to actually set up a food truck with the same restaurant branding or name. A food truck is a brilliant option to get your food to other locations and it can help you establish a name for yourself in a different area. For example, if there are food truck opportunities near industrial or commercial locations with many office buildings, then you could bring a lot of attention to your food and show it off to more people. Those people will then recognize your brand when they go into the city and see your restaurant. It's all about creating a consistent brand and offering your food to more people.
However, setting up a food truck does require a lot of investment. You need to think about where it's located, you should think about what menu items you want to have, and you also need staff to run it. You need to think about how long the contract lasts and how much time you can really dedicate to managing multiple locations. Thankfully, food trucks don't usually open for the entire day, so it can be a great option for you to personally manage so you can converse with potential customers and tell them about your main location.
7. Work with local suppliers to source fresh ingredients
These days, more and more people are concerned about where their food comes from and are willing to go the extra mile to ensure that all of the food they eat is from local suppliers that can be traced. In fact, around 46% of American consumers believe that buying local is a top priority. This behavior has started to trickle into the restaurant industry as well. Restaurant businesses that show off their local produce make it easy for customers to trace exactly where your ingredients come from. This makes them more likely to choose you over a competitor and shows that you're also conscious about where your food comes from.
The act of sourcing fresh ingredients isn't just a marketing stunt that you can leverage. The quality of your food will also improve and you'll be surprised at just how much better fresh local produce and ingredients can taste. This can also help you establish strong relationships with suppliers who may be willing to put in extra work for you when there are supply issues. For instance, you could get first priority when there is a shortage, or you may be able to request same-day deliveries for certain ingredients that you're running out of.
In short, there are a number of fantastic advantages that come with working with local suppliers. Whether it's to align your interests with your food-conscious consumers or to take advantage of fresh local produce and build strong supplier relationships, this idea offers many different benefits and is highly recommended for small and large restaurants alike.
8. Offer services for special occasions and seasons
People want to have great restaurant experiences but those demands often go beyond just the food. We're talking about services for special occasions to help create a more unique experience that makes your restaurant far more memorable and a better choice for special events and occasions. You need to define them and make sure to include them in your restaurant marketing plan.
There are a couple of ways to go about this. Many restaurants these days offer services for parties such as birthdays and work functions. If available, the restaurant will likely offer some kind of function room that is separate from the regular tables, offering a more private dining experience for your guests. However, if this isn't available for your restaurant, then creating a larger dining space to accommodate more guests is a good alternative. You can achieve this by putting together several tables, or allowing guests to book an entire section of your restaurant.
You may also want to tweak your menu to suit these occasions. Some groups may appreciate a taster menu of sorts where they can get a sample of every type of dish, while others may enjoy super-sized party portions of your most popular sides. These options will heavily depend on the type of cuisine you offer and it's important to fit the needs and preferences of your consumers.
There are a number of other special occasions that you can accommodate as well. Many of these will give you a chance to be creative with your dishes as well. For instance, you could create Christmas-themed specials during the holiday season, or you could make use of fresh local produce when it's in season and create something based on those high-quality ingredients. There's a lot you can do when you make your menu and options more flexible.
Like many Restaurants, you need more UGC (User Generated Content) to showcase your restaurant on social media and use Instagram to highlight your restaurant. UGC plays a big part in your restaurant's marketing strategy and special occasions and seasons will help you to leverage more from social media.
9. Create "Instagrammable" dishes
A great way to get noticed is by using social media to post pictures of your dishes and get people salivating. However, before you decide to take quality photographs and post your creations, it's a good idea to actually make dishes that are "Instagrammable". This essentially means having a heavier focus on presentation as opposed to just tasty food. You'll need to get fairly creative if you want to make something utterly unique, but it also can't be too gaudy and ridiculous. It has to draw people in and look amazing, but you have to try and make it stand out from your other dishes.
Here are a couple of common ideas to make your menu items a bit more Instagrammable:
Create outrageous "giant" versions of your dishes. You can market this even more by offering food challenges to people.
Make full use of color schemes to create something visually appealing. Don't hesitate to use a bit of food coloring to get your desired results.
Combine different cuisines to create fresh ideas that you can call your own.
Interpret existing dishes in a different way.
Take something loved and create your own version of it–just make sure to respect the original dish and highlight the things that make it so well-loved.
There's no secret formula to making an Instagram hit. As long as you focus a bit more on making something more presentable and interesting to the eyes, you'll have a good chance of drawing in a wider audience with your unique dishes.
10. Change your menu to suit dietary needs and allergies
People are far more conscious about what they eat now than they were a few decades ago. Some restaurants may consider their patrons to be picky about their food, but you should think of it as appealing to different dietary needs in order to gain a wider customer base. Whether people want to avoid dairy, gluten or are trying to stick to a low-carb diet, there are many different things to consider and it can drastically change your menu unless you plan for this ahead of time and design your menu around a growing number of dietary choices.
Having a diverse menu with food that suits different dietary needs comes with a number of benefits. For instance, you'll be a much better option for groups that have different kinds of dietary needs. If a group of friends has one or two people who are vegan but you don't provide interesting vegan options, then they'll look elsewhere and you could miss out on a large group of customers. In addition, having vegan options means that you'll be featured on different websites and blogs that specifically talk about vegan options in their local area.
When accommodating different dietary needs, it's important to clearly show that information on your menu and on your website. This makes it much easier for people to see exactly what ingredients to expect in your food and gives them plenty of warning should they have food allergies or intolerances. For some dishes, you may want to offer alternatives such as a vegan-based broth or a dairy-free option. As long as it doesn't change the taste too much and the price is similar, this can be a great way to appeal to a larger audience.
11. Focus on customer service as a priority
Customer service is extremely important in the restaurant industry. It's one of the top priorities for you and your staff and great service can help you stand out from the competition. But how exactly does it help with digital marketing?
Fantastic customer service gets noticed in many different ways. One of the biggest examples of this is through good reviews. When people go to your restaurant and experience fantastic customer service, they're more likely to leave a positive review which will convince others to also visit your restaurant. This also helps you avoid negative reviews which can be a huge detriment to your restaurant's reputation. Word of mouth can also be a surprisingly effective method of getting noticed. While it's not direct marketing of your restaurant, it can improve your reputation among locals and will convince more people to come and eat at your establishment.
We highly recommend that you train your staff to offer an outstanding level of customer service. This can be extremely stressful for your staff, so it's important to offer them competitive salaries and benefits to help motivate them. We also highly recommend siding with your staff whenever there's a dispute or issue with a customer unless they are clearly in the wrong. Maintaining a positive atmosphere among your staff can be challenging, but don't forget just how much you rely on them to help your restaurant build a great reputation.
Source: https://unsplash.com/photos/mr4JG4SYOF8 (CC0)
Social media ideas
12. Get on social media
Social media marketing is one of the best ways to get your brand noticed on the internet, but it really helps if you're active on different platforms so that your customers are more likely to see your restaurant. Here are some of the most popular platforms today:
TikTok is fantastic for appealing to younger audiences. There are many restaurants that have become popular thanks to TikTok. It mainly focuses on short-form videos and the videos are often humorous.
Twitter is a general-purpose social media platform that is perfect for short messages. You can talk about your products, you can post about new deals, and it's easy to engage with others on the platform. If you're not sure which platform to use, then this is usually the default choice thanks to its huge audience, advertising options, and versatility.
Facebook is another general-purpose social media platform that is great for text, video, and photos. It also has robust advertising tools and it's easy to offer support on Facebook. This platform has a huge audience that is slightly more mature than others, making it perfect for targeting adults.
Instagram is more focused on photographs and videos. It's a brilliant option if you're looking to show off your food and want to give people something interesting to look at. Engagement on Instagram is a little different from other platforms, but it's perfect if you're mainly looking to show things off.
Pinterest is a unique option that is mainly focused on sharing visual content such as photographs. It's mainly used by people that are looking for inspiration, but it can be a surprisingly good way to show off your food and your restaurant.
These are the most popular social media platforms that you should consider using. YouTube is also another option, but due to the lack of social features, we aren't including it. However, combining these platforms with YouTube videos is a brilliant idea and we highly recommend it.
13. Start taking high-quality pictures
If you want to establish a strong digital presence then it helps to take high-quality pictures. Hire a photographer or get yourself a quality camera and start snapping up shots of your restaurant and your food. If you want your food pictures to stand out, then it helps to have a food photographer on board. They'll help you take flattering pictures of your meals which will make your audience salivate.
These pictures can then be used in pretty much any kind of advertising or digital marketing imagery. You could put them on posters, on your menus, on your Google business listing, or on social media to accompany some text. They'll help improve your reputation since you're being a little more serious about the quality of the content you're posting, and it also entices people to come and visit your restaurant.
If you're able to invest in a food photographer then we highly recommend it as the go-to option for taking high-quality pictures. They'll offer suggestions on how to present your food to create mouth-watering photographs, and the images they produce can be reused again and again for menus, marketing materials, websites, and so on. In short, it's a fantastic long-term investment and can help you build a strong relationship with the photographer, making it easier to work with them in the future should you want to update your content.
14. Encourage interaction
To use social media effectively, you have to encourage interaction. This means talking with your customers and even engaging with other brands. There are many different approaches to this, but in general, you'll want to be active on social media and look for opportunities to communicate with your audience.
Thankfully, you can pick and choose what you react to and you're free to ask questions, request feedback, and generally just start conversations. As long as you're not trying to engage in too much banter, this should help improve your reputation as a restaurant and give you more opportunities to get noticed.
Interaction can help improve your overall discoverability, but it also does wonders for your reputation because you're more likely to get noticed on social media. Just make sure you're careful with what you say and what you share on social media.
Source: https://unsplash.com/photos/CAhjZmVk5H4 (CC0)
15. Run online promotions
Online promotions are a fantastic way to get your restaurant noticed, especially if you're relatively active on social media and want to get noticed. Promotions are generally very straightforward; you pick some kind of discount, you make an image or design something to coincide with it, then you release it and you let people know on social media. What you decide to promote should be based on any statistics that your restaurant generates. For instance, you could run promotions on your most popular items to get them noticed, or you could try introducing your customers to lesser-known menu items.
Online promotions should be targeted at people that already visit your restaurant, but some of these discounts can also be aimed at people who have yet to visit your establishment. Since the online audience is so large, you can aim to appeal to a wider range of people to have the best chances of converting people into customers.
16. Hire a community manager
A community manager is a brilliant option to help you manage all of your social media activities. As your brand gets bigger, you'll need to think longer and harder about what kind of posts to make, what hashtags to use, what content to put online, and you'll also have to dedicate some time to answering questions and engaging with your audience. This isn't easy and it's extremely time-consuming, hence why you'll want to hire a community manager to help you manage the majority of these tasks. With enough experience, your community manager could even help with your marketing needs, such as creating campaigns that will draw in larger audiences or designing posters and graphics to help grow your brand.
Community managers are extremely helpful for growing your online presence, but you need to consider hiring them early on so that you can create an online brand persona that matches your business's image. It's vital that you keep this as consistent as possible so that you can maintain your reputation.
17. Create contests on social media
It's also possible to create contests on social media to encourage interaction, spread the word about your business, and also generate a lot of user content.
A great example of this would be requesting your audience to take pictures of their food or meal and showing it on social media. Then you can randomly pick one to receive a discount for their next meal. Similarly, you could do a retweet campaign on Twitter. Simply request your audience to retweet a message and then they'll be entered into a raffle for a chance to win a meal, some merchandise, or even something bigger. There are loads of options to consider when creating a social media contest, so don't be afraid to try out new things now and then.
Keep in mind that different kinds of contests are more suitable for different platforms. For example, Instagram is more focused on visual content, meaning it's more suitable when you want to generate user content such as photographs and videos. On the other hand, Twitter is much easier to use if you simply want people to retweet a post so you get more exposure on the platform.
Make sure to define your target audience and understand which social media platforms they prefer to use. Don't waste your time or money in the wrong channel.
Source: https://unsplash.com/photos/i_xVfNtQjwI
18. Work with food influencers and marketing services
One of the most effective ways to use social media is to find and work with food influencers. These are figureheads in the food community that often have large followings and a big voice. A single short endorsement of your restaurant could mean hundreds, if not thousands, of extra customers throughout the month. However, it's important that you work closely with influencers if you want to nurture a strong relationship that can be beneficial to both of you.
When working with food influencers, it's important to understand the mutual relationship that you'll both have. For influencers, working with restaurants means they're able to create new content that entertains their followers. Influencers are constantly on the lookout for opportunities to make videos, blog posts, and even tweets that will garner more followers and grow their brand. So if you plan to work with influencers, make sure you present your restaurant in a way that helps them discover content creation opportunities. You could work with them to create a unique dish that is new to your restaurant, or you could even let them work at your restaurant for a day so they can learn about how your food is made and share it with their audience.
For the restaurant, your end of the deal means getting noticed by thousands of new customers, thus growing your potential audience. As such, you'll want to try and target influencers that have audiences that are geographically close to your restaurant or are likely to travel and visit your establishment. This means doing some research in order to find the most suitable influencer to work with to maximize the time and money spent on the partnership.
19. Get your restaurant on coupon websites
Coupon websites are a surprisingly good way to get more people to notice your restaurant. You can run timed promotions by offering discounts on your most popular dishes and providing coupons to various websites. Coupons will need to be created by your own point-of-sales or restaurant management system and the codes themselves will be generated by you and provided to coupon websites. This is the most typical method of doing this, but there are other options as well if you're willing to do a bit of research and collaborate with coupon and discount websites that have their own system.
Getting on coupon websites and offering deals is a fantastic way to get the ball rolling. In some cases, it may even be worth losing a bit of profit or just breaking even in order to grow your audience during the first few weeks or months of your restaurant's grand opening. Strategically timing your coupons can also be important because you don't want to end up in a situation where customers only visit your restaurant when it's discounted.
These coupons can then be shared on social media or in newsletters, giving you more content to write about and show off to your followers.
20. Build a brand persona
A brand persona is extremely important if you want to get noticed on social media. Some of the top food and restaurant brands on the internet have unique personalities that are managed by talented community managers who are able to connect with their audiences and create organic engagement that is shared among thousands of social media users. A brand persona is something that is generated naturally based on the way you want to be perceived, but it's important to have a social media manager who can naturally fit that personality and role so that it feels more natural and less forced.
Confidence is important if you want to create a unique brand persona and it needs to be something that you establish for the long term. If you create an interesting brand person but then replace the community manager behind it, people are going to notice the changes in their personality and will likely call you out or start to ignore your social media presence because it's not the same.
Source: https://unsplash.com/photos/npxXWgQ33ZQ (CC0)
Website-related ideas
If you are working on your restaurant's website design, check out this awesome guide: A Complete Guide for Your Restaurant Website Design Project
21. Set up a recurring email newsletter
Email newsletters are great for a number of reasons. You simply ask your audience to give you their email address, and then you'll send them regular updates about your restaurant. The newsletter can be sent every week, every two weeks, or even every month if you prefer. The information it contains is usually about your menu items, seasonal changes to your meals, or it could even contain discount coupons that they can bring to your restaurant.
Another goal with a newsletter is to build up a large email list. This can be used for advertising purposes and you can use email marketing to remind your customers of your restaurant. As long as you're not being too pushy with this, it's a fantastic way to grow your business and get noticed. While restaurant newsletters are a powerful marketing tool, you have to approach them carefully so that they're not discarded and considered spam by your customers and email services such as Google.
22. Have an online menu
People these days do plenty of research before they decide to go to a restaurant. They'll look at reviews, they'll check out pictures, but most importantly, they'll look at your menu. You don't need to offer online ordering either–just having a visible menu is fine.
It's vital that you have an up-to-date version of your menu on your website so that people can see what you offer and also what your prices are like. It can sometimes help to separate your menu as you do in the restaurant. This means offering a seasonal menu, a regular menu, and also a drinks menu. This makes it a lot easier for people to look at what you offer so they know what they're going to order.
Since it's online, you can also create a more interactive and detailed menu. For instance, you could have pictures to accompany the items on your menu so that people know what they're buying. This is a great way to market your restaurant and will get more people interested in coming to your establishment.
23. Include a blog in your restaurant website design
A blog is fantastic for search engine optimization. This means that when people search for a restaurant, your restaurant has a higher chance of appearing. If you offer Italian food and your audience searches for local Italian food, then your website will show up if you have good SEO. If you don't, then you'll be much harder to discover.
The best way to use a blog would be to talk about your restaurant, offer cooking tips, discuss recipes, and even show off the latest changes to your establishment. The goal of your blog will depend on what you want to achieve, but one of the most unique ways of using a restaurant blog is to actually humanize everything you do. Blog posts can be written by staff members, they can be used to highlight some of the processes that you have, and they can even be used to get insights into how you design your recipes.
This not only makes your restaurant more approachable, but it greatly improves your search engine optimization, making it a fantastic way to grow your business and get noticed. We suggest using a service such as WordPress and its templates to make it easier to add content to your website's blog, but there are other content management systems that work just as well.
Source: https://unsplash.com/photos/tKN1WXrzQ3s (CC0)
24. Have an online reservation tool
An online reservation tool is extremely useful for letting your customers book in advance. It should be linked up to any restaurant management system that you have and it should be a clear option on your website. While this is more of a restaurant website feature, it can also be used in conjunction with your marketing.
For example, you could link to your online reservation tool via a QR code on your physical marketing elements such as flyers and posters. You could also link to it via social media if you want to help people quickly book their tables to coincide with an event or discount that's going on. You can get really creative with where you place your online reservation tool.
There are many tools available that make it easy to offer online reservations, including OpenTable, Resy, Tablein, Yelp, and TableAgent. We see online reservations as a necessity than a luxury tool.
25. Or reach out to bloggers and influencers
Even if you have your own blog, it's a good idea to reach out to other bloggers to help improve your backlinking score. This essentially means that the more websites that link to your website, the higher your domain authority will be. This means that you'll be recognized by Google as a legitimate and informative website, and this will help push you up the search engine results so that it's easier to get noticed.
Reaching out to bloggers often means writing and receiving guest posts. However, you can also sponsor certain bloggers by inviting them to come to eat at your place and review it for free. You can create some fantastic relationships by working with bloggers, and this also works with influencers as well.
If you reach out to influencers on platforms like Tiktok or Instagram and invite them to visit your restaurant, then it has the potential to make your location extremely popular within the next few months. If you're visited by an influencer with hundreds and thousands of followers and they like your food, then there are going to be loads of people that are suddenly interested in your restaurant.
26. Focus on your website's SEO
Your website's SEO is one of the most important components of maintaining a strong online presence. We've already briefly talked about some SEO elements such as blogs and backlinking, but there are a number of other elements that can help make it a more user-friendly experience while also improving discoverability.
A great example of this would be optimizing your website for mobile users. A responsive website improves the user experience and ensures that all of your web pages are easily visible and can be found without navigating lots of links. The purpose of this is to make it so your website is a lot easier to browse on mobile devices. This means changing the layout of your website so it's easier to navigate with touch controls, and it can also mean changing images and videos so that they're smaller and load faster. These small optimizations are often referred to as technical SEO.
Local SEO is one of the most important tool for restaurants today. You need to claim your google my business, and make sure that all your business information like your phone number is correct and consistent within your website, and other 3rd party websites. If you want to show up in specific keywords fast, your best bet would be local search results. Don't forget, you will always find local listings are on top of Google Searches results, that's why, Local SEO is more important than ever.
By combining these different SEO concepts, you can greatly improve your discoverability and improve your domain authority with a professional website that is founded on responsive design.
27. Try video marketing
Video marketing is a fantastic option these days thanks to the ease and accessibility of creating video content. You can shoot videos on a phone, edit them on a tablet or computer, then upload them to social media, host them on YouTube, and share them on your website. This is a fantastic option for restaurants that are looking to create shorts that show off the restaurant, but they can also be used in the kitchen to show your audience what food you make, how it's made, and also create very satisfying cooking videos.
You can also invite food bloggers to review the restaurant and use their video on your channels. That way, you don't have to worry about the details, and leverage food bloggers' network at the same time.
Video marketing isn't new, but using it correctly as a restaurant can be tricky if you're new to the concept. Video marketing can be done on a very amateur level with just a phone and a laptop, but we'd suggest hiring a video marketing specialist if you're interested in going the extra mile to create really high-quality videos that will appeal to your audience.
28. Ensure your details are correct on Google
Don't forget to check that your restaurant's details are correct on Google's business listings. This is absolutely vital because it ensures that your restaurant can be found on Google Maps and it also shows up when people search for specific terms such as your local area. You can contact Google to claim your restaurant on their business listing, and you can also add your restaurant if you don't see it on Google Maps. Once you've set up a listing, make sure all of the information is correct.
This is also a good time to check for things such as reviews that have been left on Google. You can reply to these or even flag them if you think they're inappropriate or spam. You can also get an idea of how well you're performing based on reviews. Whether you're a small business or a chain restaurant, correcting your details is an absolute must.
29. Share testimonials and reviews
If you've got a few positive reviews on Google or testimonials written by influencers, then it's a good idea to post them on your website or have them on your front page so that people can see them when they visit your website. For reviews, these can be easily linked to your website without much trouble. You can add Google Reviews to your website with ease and keep them updated automatically so that you're not just taking a picture of a review or copy and pasting the content itself. This makes the review more dynamic and lets your potential customers click on the reviews to open up your business listing on Google.
For testimonials, you'll have to get permission from the person that said it. Influencers don't want their words taken out of context, so you need to establish a good relationship with people that speak positively about your restaurant and ask for permission to use what they said on your new website. You'll likely need to confirm with them that what you're posting on the internet is acceptable and an accurate representation of how they feel about your restaurant.
Testimonials and reviews are best served on the front page so that people can instantly see them. However, you might also find success posting star ratings and comments from industry reviews of your restaurant on media such as posters. This will draw more attention to your marketing strategies and materials and helps to create a more consistent and reputable brand.
30. Offer cooking lessons and recipes
You should also consider offering cooking lessons and recipes on your website if you're not afraid to share some of your secrets. While you should never give away the exact recipe of your most popular foods, you shouldn't be afraid to share some of your dishes and educate your audience on how to make them at home. This transparent approach to creating engaging website content is appreciated by your audience and shows that you're not afraid of providing value to your customers.
If you have a large enough audience and the drive to do it, you could even offer formal cooking lessons and create an official recipe book that you can sell in your restaurant or in stores such as Amazon. Creating a recipe book is a lot of hard work, but it's a fantastic option to help grow your brand and get people to recognize your restaurant's name and the food you serve. Just remember not to reveal every secret and keep your menu fresh so that people are encouraged to visit your restaurant and not just replicate their favorites at home with your recipes.
A summary of how to market a restaurant in 2022
Creating compelling marketing campaigns for your restaurant certainly isn't easy, but we hope that these tips have given you a good idea of where you can start. Whether you decide to work with website design services for a full-service package or if you just want to work with a design agency to help create promotional images, there is a lot that you can do to market your restaurant in 2022.
Here's a quick summary of all the ideas that we've shared with you today.
In-restaurant ideas
These are some of the top in-restaurant ideas we have. These generally focus on creating a more pleasant experience for customers that already visit your restaurant, but they can also be used to draw in audiences from the street that are just passing by.
1. Establish a loyalty program to offer your customers rewards
2. Design large posters to use in your restaurant
3. Let your staff shine and stand out
4. Work with food delivery services
5. Keep track of your restaurant stats and create events around them
6. Set up a food truck in another potential location
7. Work with local suppliers to source fresh ingredients
8. Offer services for special occasions
9. Create "Instagrammable" dishes
10. Change your menu to suit dietary needs
11. Focus on customer service as a priority
Social media ideas
Social media is one of the most effective ways to grow any kind of brand and restaurants are no exception. By utilizing everything that social media has to offer, you'll discover an incredible amount of marketing potential on every single platform.
12. Get on social media
13. Start taking high-quality pictures
14. Encourage interaction
15. Run online promotions
16. Hire a community manager
17. Create contests on social media
18. Work with food influencers
19. Get your restaurant on coupon websites
20. Build a brand persona
Your website is another important component that can't be overlooked. Make sure to update your website regularly and provide helpful features and content for your audience.
21. Set up a recurring newsletter
22. Have an online menu
23. Start a blog on your website
24. Have an online reservation tool
25. Or reach out to bloggers and influencers
26. Focus on your website's SEO
27. Try video marketing
28. Ensure your details are correct on Google
29. Share testimonials and reviews
30. Offer cooking lessons and recipes
This concludes our 30 restaurant marketing ideas for 2022. We hope that these tips have given you some fresh and creative ideas to grow your restaurant.
Sign up for Gourmet Newsletter
Subscribe to our newsletter to get access to exclusive content.
Get this newsletter