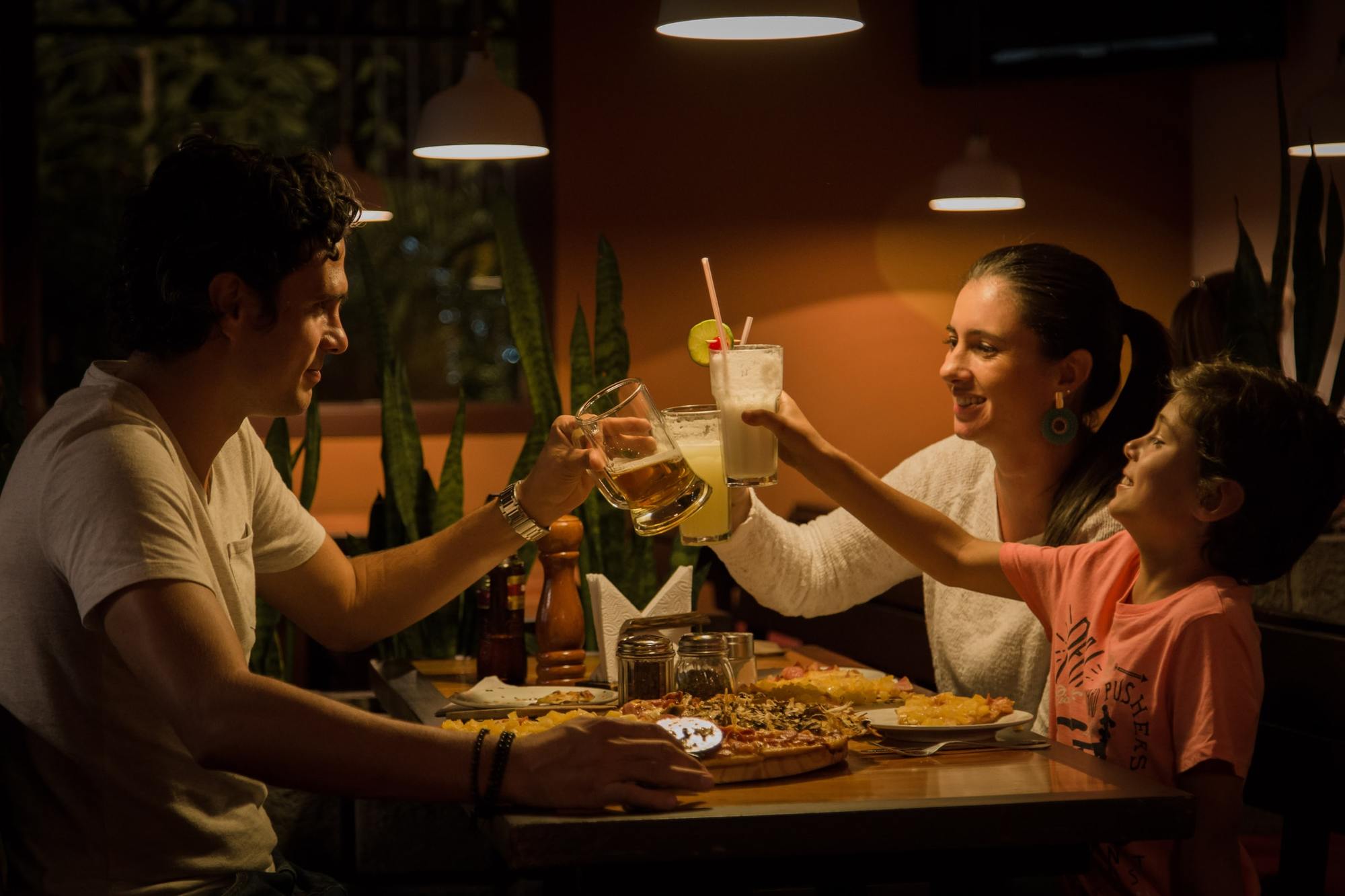 Kids' meals and beverages have traditionally been served in restaurants almost as afterthoughts. Often consisting of a sugary soda, burger, fries and cheap toy, these "unhappy" meal options have contributed to child obesity. Restaurants can use a thoughtful and nutritious menu for kids as a big drawing card for attracting parents who are concerned about nutrition. Planning and advertising thoughtful and nutritious children's menus help to reassure parents and encourage them to eat out more often.
Taking Command of the Children's Health Issue
Government regulations, parental health concerns and changes in food tastes contribute to restaurants offering healthier foods for kids with more choices. Even children respond to the increasing popularity of celebrity chefs and sustainable food sourcing. Restaurants can take command of the healthy-food issue by proactively offering nutritious and high-quality menu items for children instead of greasy fried chicken nuggets and fries, gooey pizza and calorie-laden mac 'n' cheese. Taking control of children's menus involves the following issues:
Savvy restaurateurs and chefs offer fruit and vegetables for children and treat them like decision-making customers.
Children often want to order from the adult menu by the time they reach ages 8–12, but parents balk at paying full adult prices.
Offering smaller portions of entrées not only benefits children who want to order from the regular menu but also adults who want to eat lighter meals.
Restaurants that provide more children's-menu food options help to raise culinary awareness and begin building loyalty with people who might become patrons for life.
Impressing Parents to Ignite Restaurant Sales
Some restaurateurs never target or plan children's meals because the restaurant's concept might preclude family-style dinners. Unfortunately, this strategy can prove offensive to parents and limit opportunities for growth. Restaurants have become increasingly competitive, and overhead expenses and urban rents are high. Restaurateurs can't afford to write-off a significant part of the dining-out market.
In fact, offering more extensive kids' menu items is the first step in successful family-friendly marketing and service. Successful restaurants offer more choices for children, healthier kids' foods and thoughtful family events.
Activities for Children and Families
Providing entertainment for children reduces instances of crying or acting out that cause many diners to avoid family-style restaurants. The issue of crying babies and toddlers in restaurants continues to generate conflicting opinions, but restaurants can finesse the issue by providing adult-only areas, keeping children occupied with games and activities and introducing kids to the joys of quality dining.
Stashing strollers, providing high chairs and booster seats and designing play areas keep kids pleasantly occupied so that crying seldom become an issue.
Restaurant managers can create welcoming atmospheres by providing creative and healthy cuisine and focused, kid-friendly service.
Successful restaurants provide balanced service so that they don't alienate families or adults without kids.
Making Kids Feel Welcome
Making kids and their parents feel welcome includes providing changing stations, crayons, toys and coloring books. Using tablets or iPads at tables can offer families electronic games and diversions for their kids to enjoy. Treating kids and parents as honored guests reduces instances of crying and misbehaving because even toddlers sense when they're not welcome and respond accordingly. Offering more healthy food choices and treating kids like valued customers keep families returning often to dine, book kids' parties, order carryout family meals and buy sales promotional foods and merchandise.
Kids' Menus Attract Customers, but Service Keeps Families Returning
Special deals and healthy foods get families in the door, but genuinely welcoming service keeps them coming back regularly. Children are people and shouldn't be treated as afterthoughts. Hosts and servers should focus on saying "hello" to each child and treat kids like regular patrons.
Restaurants can pursue many strategies for designing and marketing children's menus. Regardless of whether a restaurant offers freebies for kids, free drinks, healthy kids' menus or smaller portions of regular menu items, developing a kid-friendly reputation offers many benefits.
Sign up for Gourmet Newsletter
Subscribe to our newsletter to get access to exclusive content.
Get this newsletter