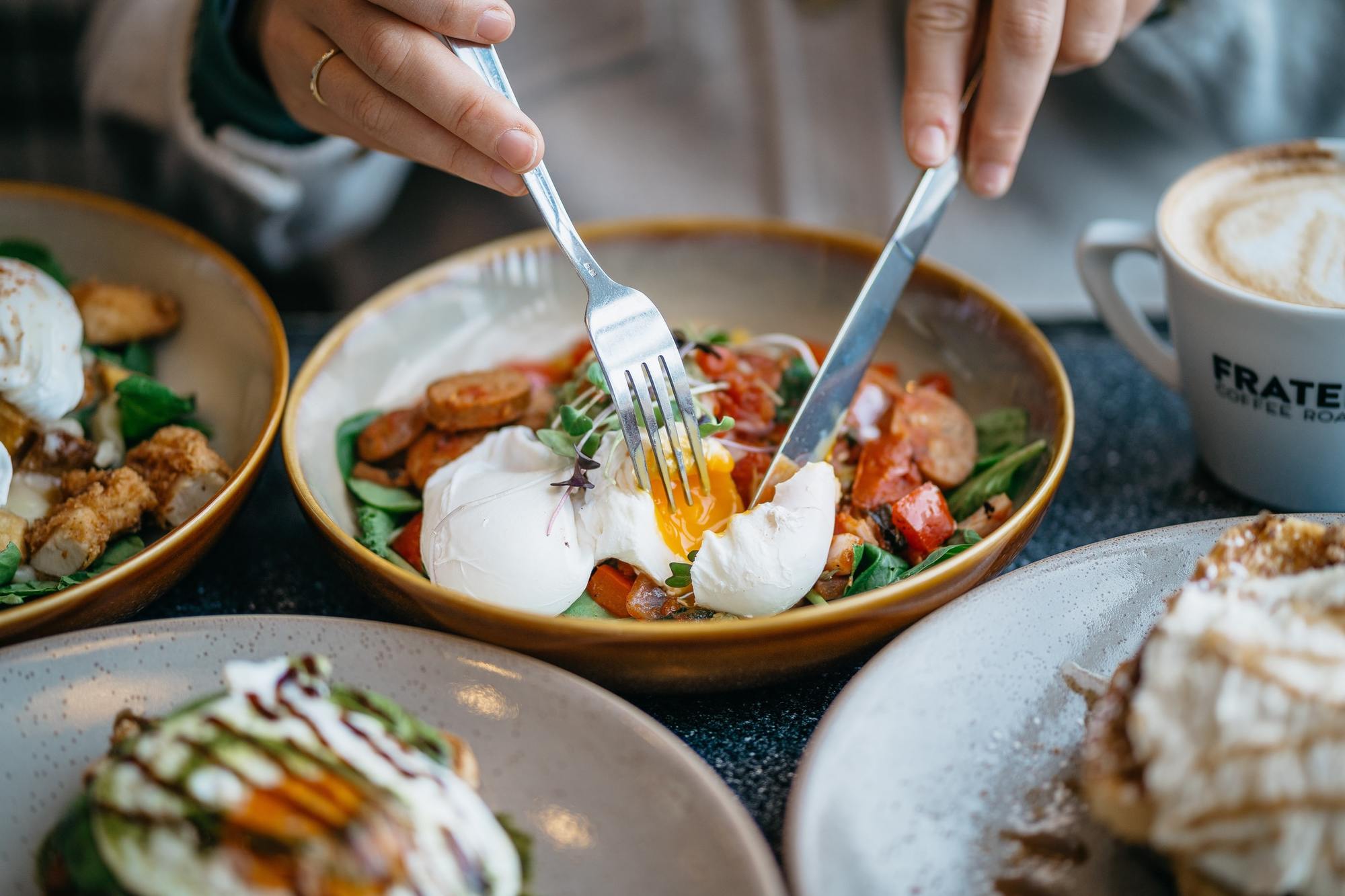 Brunches have become trendy among all types of diners, and savvy restaurant owners are investigating ways to profit from the trend. Unfortunately, a successful brunch often depends on other factors than those that create successful restaurant operations. Leisurely dining, ambience and rich displays of culinary choices generate successful brunches.
The city of New Orleans, a major culinary destination for tourists, has long used the brunch format coupled with live jazz and courtyard dining to create "big easy" ambience, and restaurants everywhere follow the city's seemingly relaxed style of serving brunches. Creating a relaxed ambience, however, can be demanding work for a restaurant's staff.
People are willing to spend generously for leisurely meals on weekends, holidays and special occasions. Ever since the term brunch was first coined in Britain in 1895, it described a hangover meal served on Sundays for people who overindulge on Saturday nights. Today, brunch combines breakfast and lunch in countless ways to promote cheerful rejuvenation, social interaction and unhurried dining.
Planning a Popular Restaurant Brunch
Brunches usually feature more breakfast dishes than lunch choices, but extensive buffets might include large roasts, smoked fish, soups and salads. Ethnic brunches have become popular venues where guests can try new dishes and enjoy music from different cultures or international arts and crafts. Choosing the right type of brunch for a restaurant involves making some key logistical decisions.
Beverage brunches are increasingly popular and include mimosas, bloody marys, punches, gin fizzes and bellinis.
Restaurants can choose from prix fixe menus, buffets and à la carte service or offer a combined approach.
Successful brunches often have a hook such as holiday service, local art showing, or live music.
Comfort foods and regional cuisines provide great options for brunch services.
Avoiding Lackluster Brunches
Building a brunch business requires offering attentive service. Restaurants that offer a few fruits and choices without a unifying theme or compelling raison d'être are unlikely to enjoy much success, and food costs can limit profits.
Brunches are not tied to schedules, so turnover rates can be abysmal.
Socializing and getting out of the house is sometimes more important to guests than food choices.
Food-based brunches need to offer plenty of options that include baked goods, desserts, fresh fruits and salads, lunch entrées and standard breakfast fare.
Hotel pans must be refilled or changed before they become half-empty to keep displays appetizing.
Restaurant owners should develop strategies for using uneaten foods or donate them to local charities.
Keeping the buffet area fresh and appealing is important throughout the service period even if it is only 15 minutes before closing. Energy levels of staff must remain high to inspire customer loyalty and encourage repeat business as brunches are particular suited for repeat business. Late risers want to receive the same attentive service that the first customers of the day enjoy, so creating the right ambience is critical to organizing a successful restaurant brunch.
Decorating Restaurant Spaces and Creating Fabulous Food Displays
Owners will face some fixed startup costs to create an appealing restaurant brunch. Expenses include high-quality chafing dishes, restaurant decorations, centerpieces and eye-catching trays of food.
Cost-cutting techniques include staggering food displays by using cans and boxes under linen tablecloths.
Vary colors of desserts, or intersperse them among other dishes.
Attended carving or omelet stations impress restaurant guests while actually limiting portions and maximizing profits.
Place cards that use fancy fonts and bright colors can provide a low-cost way to suggest opulence.
Reusable decorations provide dramatic accents, so consider adding a chocolate fondue fountain, rustic food baskets or silk floral arrangements mixed with live flowers.
In-house advertising is a great way to convince regular guests to bring their friends to brunch, so advertise with flyers, table tents, emails or easel displays.
Brunches can inspire loyalty, capture people's imaginations, showcase different cooking styles or promote special occasions or community initiatives. Choosing a popular theme and culinary style and providing attentive service helps restaurant owners build successful brunches.
Sign up for Gourmet Newsletter
Subscribe to our newsletter to get access to exclusive content.
Get this newsletter