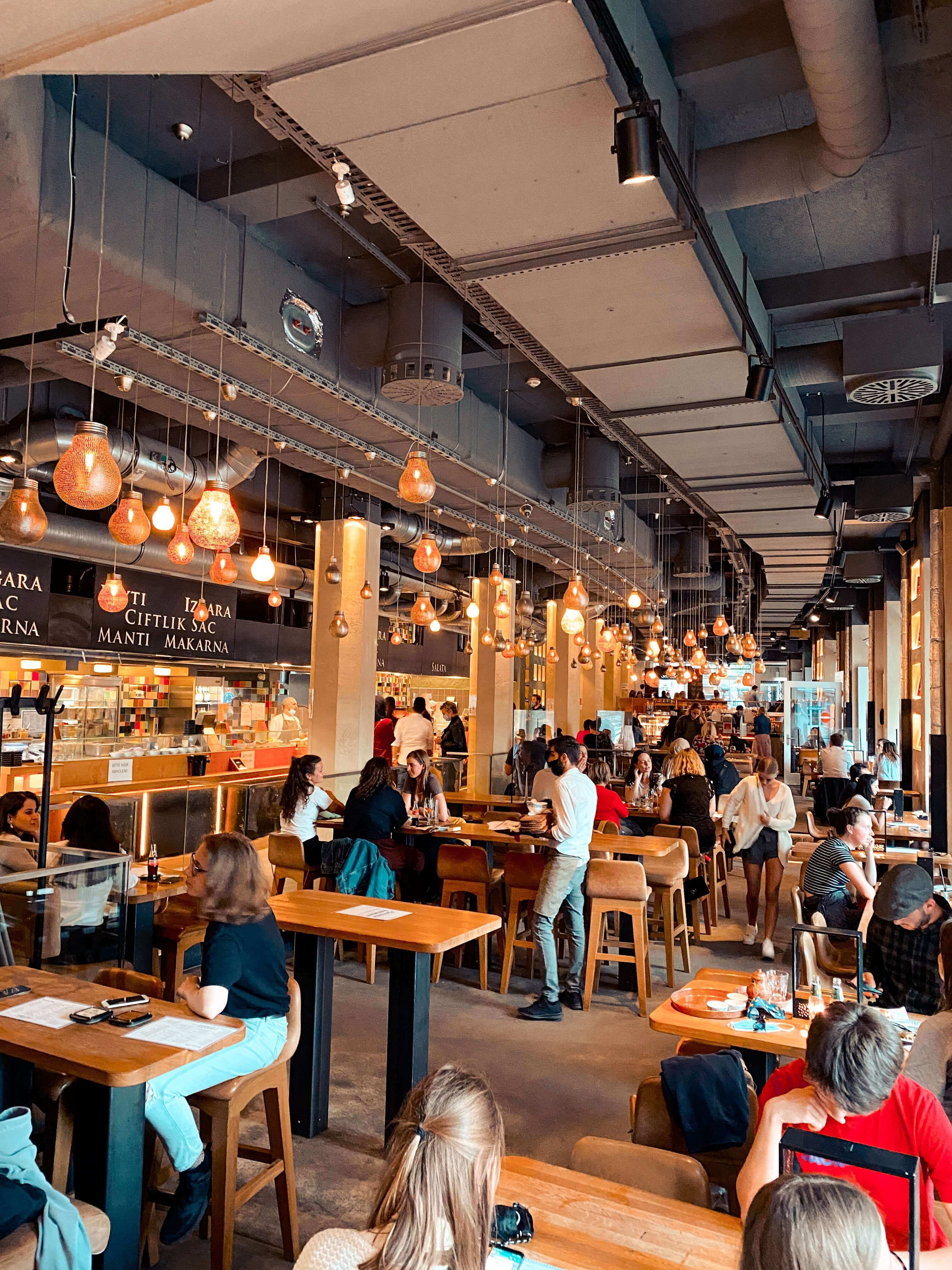 Restaurant advertising is a complex, ever-changing industry. Online marketing is one arena where trends are important from year to year, and often even month to month.
Digital advertising is a complex, ever-changing industry. Online marketing is one arena where trends are important from year to year, and often even month to month.
Social Media Advertising on Facebook
We've put together some Facebook digital advertising trends for your restaurant. With its predominantly mobile-first audience, Facebook is expected to take a giant leap forward in 2016. Amazingly, one out of every six minutes spent on the Internet is spent on Facebook!
These trends are part of an ever-changing and evolving landscape on Facebook.
The fairly popular Carousel Ad Format nearly doubled spend from the second to third quarters of 2015. Why? Carousel performance is generally better than traditional static images because it lets you use multiple images and links in one ad.
These ads allow you, the restaurant owner, to tell a visual story. You could promote a meal visually from drinks to appetizers, to salad, to main course and dessert.
You could also tell the story of one of your diners, staff members, the history behind a dish, or photos of a recipe prep.
The Carousel allows you to connect with your potential diners more fully in 2016. The superb performance of Carousel ads does justify an increased ad spend over time. Check these out if you haven't already because these ads will prevail in 2016.
Video will also be huge in 2016 on Facebook. It's absolutely vital that you take advantage of this tool in your restaurant's digital advertising. You have a wealth of options when it comes to creating great content. We'll talk more about promoting video further on in this article.
Social Media Advertising on Pinterest
Pinterest is a great place for restaurants. It allows you to connect with customers, new and returning. It allows you to share great content. Expect it to really surge in 2016.
Pinterest has great selling potential because Pinterest boards are an ideal stream for photos of your menu items. You can separate boards by breakfast, lunch, and dinner and break them down by appetizers, main dishes, salads, pasta, meat dishes, etc. The possibilities for your Pinterest marketing in 2016 are endless.
Like Facebook, Pinterest also allows you to spend some money to promote your pins. You set up the targeting and ad spend, similar to other platforms. Expect promoted pins to grow in 2016 as the platform grows.
Using promoted pins, Pinterest allows you to target your Pinterest ads to its largest demographic – women in their 30s. This group has incredible buying power and is most often responsible for meal planning. They are naturally drawn to photos and links to food and recipes.
One of the best things about Pinterest is users click straight from Pinterest to your website bringing potential diners right to your menu or online ordering.
Pinterest drives significant referral traffic. In fact, it does such a good job, it runs second only to Facebook when it comes to driving traffic to websites.
Consider Nate Elliott, who said, Pinterest may very well one day drive more sales than Facebook.
Social Media Advertising on Snapchat
We bet your restaurant isn't on Snapchat yet, but if trend analysts are correct, you might want to jump in. People are flocking to Snapchat to see things in real-time.
Snapchat is increasingly popular with the younger generation, and as they age, restaurants need to move with them. Here are a few ways to leverage this advertising platform in 2016.
Send secret, one-time passwords to customers who've opted in. They can redeem these for a free appetizer, drink, dessert, or delivery fee.

Ask diners to snap and share while they're in your restaurant and give them a coupon.

Leverage your tantalizing food photos.

Ask for immediate dinner feedback.
Using Snapchat advertising to further promote your brand will also be hot in 2016.
Mobile Advertising with Google AdWords
Mobile is expected to completely overshadow the desktop in 2016. With the Mobilegeddon of 2015, Google took a firm stand against websites that weren't mobile-friendly. As restaurants continue to work on updating their sites so that they are responsive to multiple screen sizes, they'll begin to see their mobile visitors increase.
Your digital advertising must begin with a mobile-friendly website in 2016. Without this, your mobile advertising will suffer. So, let's assume you've updated your site and want to learn more about mobile advertising trends in 2016.
More than half of all Google searches now come from mobile instead of desktop. It's predicted that the number will only continue to rise as more people pay for mobile clicks on Google. Your restaurant is a superb candidate for taking advantage of this digital trend for 2016.
Consumers are often looking for dining options whether they're in their hometown or traveling. Mobile ads tend to be a bit cheaper than desktop ads, and with mobile's impressive conversion rates, we expect the trend toward mobile advertising to skyrocket.
When using Google AdWords for your mobile advertising, you have many options to control your targeting to get the most out of your bids. Here are some things to do when it comes to mobile advertising using Google AdWords:
Geo-target your ads to your geographic dining area. This eliminates waste.

Increase your bid amounts around meal times such as lunch and dinner to capitalize on people searching for restaurants.

To make the most of your budget, use mobile bid adjustments to control what you pay. You can set a mobile bid adjustment for your restaurant's specific keywords using the Settings tab and the subtab, Devices. Set your mobile bids as a percent of what you're willing to pay for the same ads on desktop. Don't be afraid to increase your mobile bids considerably. This is the ideal place for your restaurant to increase your advertising budget.
Video Ads
Companies have been using video ads for years, especially on YouTube. Other social media platforms have also jumped onboard.
According to Business Insider, video has the highest click-through rate (CTR) of all digital ad formats (1.84%), which is perhaps why they predict that online video ad revenue will reach nearly $5 billion in 2016, up from $2.8 billion in 2013.
What does this mean for you in 2016? It means it's time to get on board with the trend of video advertising. If that sounds scary, it doesn't have to. You don't have to break the bank to create a compelling video. We're talking about 15-30 second messages recorded with a good camera or smartphone.
We talked earlier about Facebook and their support of videos. In fact, Facebook's COO Sheryl Sandberg shared the news that in the first quarter of 2015, more than one million small business owners posted videos to Facebook, accompanied by "really small ad buys around them."
That leads to our discussion of video on Google. In 2016, expect Google to add in-SERP video advertising.
Why this push towards video ads? Simply, today's world lives online in a visual atmosphere. Videos are the wave of the future, and with Google's ownership of YouTube, you can expect the trend towards video advertising to grow exponentially.
Let's talk about Google's video advertising which is expected to arrive in 2016. SERP stands for search engine results page. This means that instead of just text on Google's search results pages, you'll find video-based advertisements.
Your restaurant's videos will show up as thumbnails that diners can click on to watch. This provides an incredibly opportunity for restaurant owners to showcase their food, specials, dining area and even videos of a chef creating a dish.
This is especially promising for sponsored search results as it will provide an eye-catching, compelling video instead of plain text.
Google is pretty tight-lipped about this currently, so we'll have to wait to see how this digital advertising trend progresses.
Search Engine Advertising
When it comes to search engine advertising, you have two options: search and display. In 2016, display advertising is expected to surpass search.
According to eMarketer, search ad spend will be $29.24 billion in 2016 versus $32.16 billion in display ads. Why is this happening? Let's look at the reasons:
Search engine volume has reached a steady state. This means that searches aren't necessarily increasing. Plus, paid search requires that your potential diner do something to trigger the ad.

Display ads on the other hand are everywhere. While your diner has to do something to get to the page where the ads are, it's not by search. Also, multiple display ads are often shown on one page.

Online marketers, like you, are paying attention to the bottom line and how much is spent on ads that are or aren't working.

Display ads are more sophisticated as we move towards 2016. Measurements are more advanced, and marketers can really see the value of the money spent on display ads.

Digital marketing budgets are increasing. While money won't necessarily be taken away from search ads, more will be allocated to display budgets. When it comes to search you can't manufacturer keywords to up your spending. You've found the ones that work and concentrated on them. Display on the other hand has infinite possibilities.
To sum up the future of search engine advertising in 2016, we want to emphasize that search is here to stay, but it is stabilizing. Since query volumes have leveled out, the limitless supply of digital display ad possibilities will drive display spending over paid search in 2016.
Both forms are vital, and as you enter 2016, we encourage you to take advantage of both.
Retargeting
Gone are the days of blindly targeting all of your customers. After all, they don't all have the same needs. The year 2016 ushers in the absolute necessity of reaching your customers with information that is valuable to them – information they want.
Enter retargeting. You can retarget customers on social media platforms and using banner display ads.
We like Google AdWords, Twitter, and Facebook for retargeting your website customers.
What is paid retargeting? In a nutshell, it's providing relevant, engaging ads outside of your website to people who are already engaging with your brand.
The restaurant industry is ultra-competitive, so in 2016, you'll want to get your restaurant started with retargeting so you stay in front of your customers on an ongoing basis.
How? Use tracking pixels to find visitors to your website. Create lookalike audiences based on your existing audience and serve them ads.
Retargeting is great because it lets you reach people already engaged with your restaurant. Retargeting helps you nurture leads and guide them through your sales funnel.
When you use retargeting, you turn leads into customers. You might retarget them with a coupon, or a photo and coupon of the last menu items they viewed on your site.
Marketers will increase retargeting spending in 2016. Think of it as your follow-up budget. It's important to keep your ads targeted specifically enough so your customers think they're helpful and not intrusive.
App Indexing on Google
Mobile-friendly sites are terrific but expect apps to begin the long march to overtake them in 2016. Dedicated apps are especially valuable for restaurants as they're a place to offer your menu, ordering, coupons, a loyalty program, and more.
Google offers app indexing, and expect this to take off in 2016. Apps can be as comprehensive as your restaurant website, complementing your online presence while offering more personalization.
To Conclude
There is one more digital advertising trend we'd like to touch on, and it encompasses all of the above. It is relationship marketing.
In 2016, the trend of digital marketing is a focus on building long-term, loyal customers. The days of the quick acquisition are long gone. Your goal in marketing your restaurant in 2016 is to encourage repeat customers who value your strong, emotional connections – customers who are loyal enough to drive your business through word of mouth.
When you actively work on targeting the right customers at the right time, you have the opportunity to start and nurture conversations and relationships.
Lastly, top of the list when it comes to digital advertising trends is testing. You've got to evaluate the data and know what works for your restaurant. Pay attention to the data and use it to drive your digital marketing efforts in 2016.
Sign up for Gourmet Newsletter
Subscribe to our newsletter to get access to exclusive content.
Get this newsletter