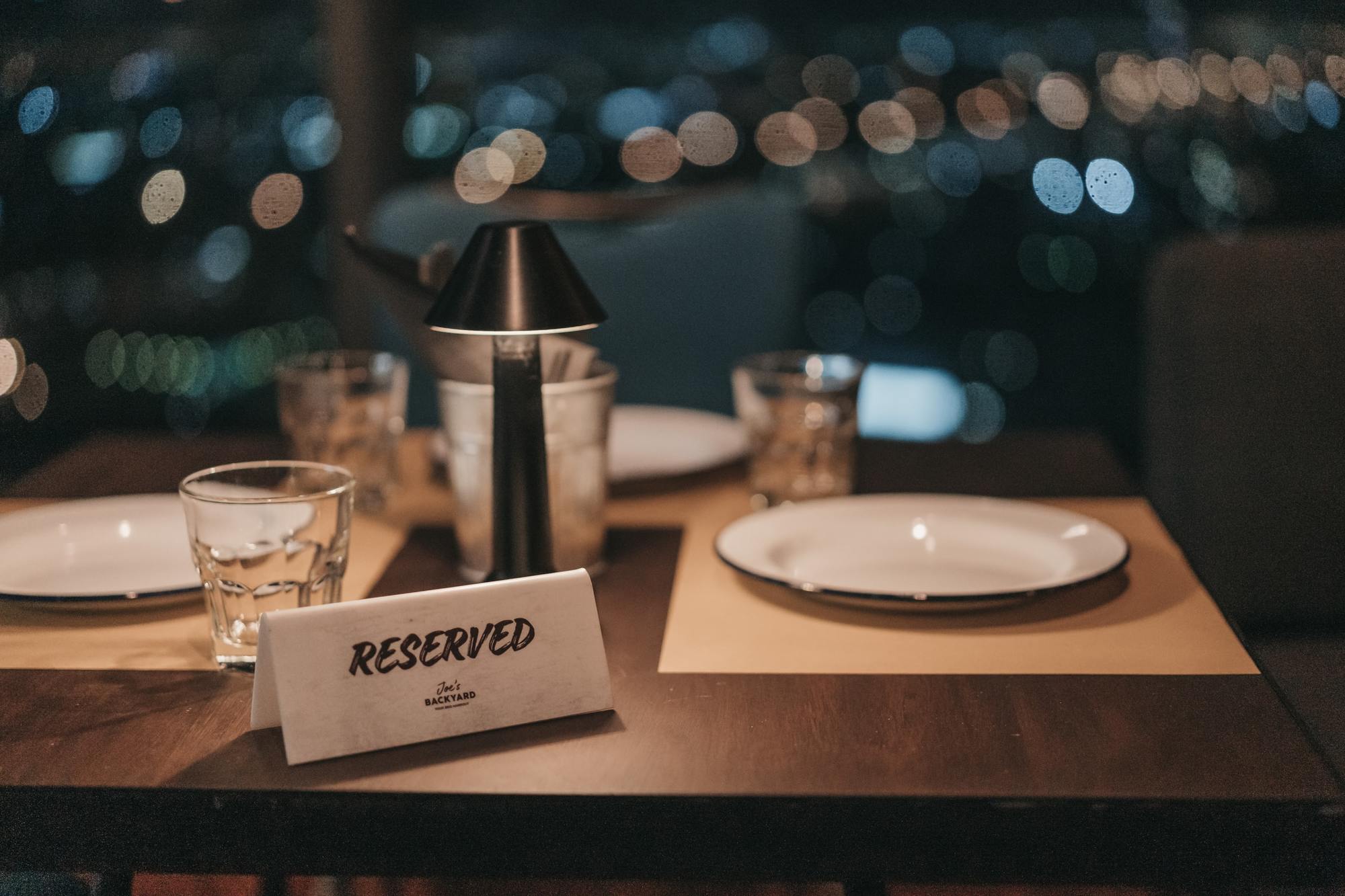 It's so easy to make reservations that people often book multiple restaurants and choose where to dine at the last-minute or book tables for uncertain gatherings. No-shows are becoming increasingly common, and restaurants must find ways to deal with the problem — such as overbooking and creating waiting lists for busy nights.
New apps, mandatory deposits, premium prices and payments in advance can protect restaurants against no-shows. Even celebrity chefs and the most famous restaurants must deal with no-shows. Small restaurants with thin profit margins, even when fully booked by online reservation systems, face business failure due to high no-show rates.
Dealing with No-Shows
Restaurateurs can deal with no-shows, last-minute cancellations, and reduced or increased party sizes in several interesting ways due to advanced technology. These include flexible table seating, last-minute booking apps and taking deposits or prepayments for meals.
Overbooking
This proven booking solution works because it's impossible to predict how long customers will stay on any given visit. Carefully booked restaurants — even when not booked to capacity — often have periods when guests must wait for their tables. Even the most predictable long-term customer might linger at a table if he or she meets an old friend or entertains a guest. Slow service, kitchen emergencies, lingering guests and weather can affect when guests arrive and how long they stay. Overbooking during prime time allows restaurant managers more flexibility to deal with unexpected changes while maximizing table utilization. Restaurateurs should plan ways to occupy and entertain waiting guests, especially if they routinely and strategically overbook.
Deposits and Prepayments
Customers reserve tables more seriously and don't book tables to keep their options open when faced with mandatory deposits. Facing forfeiture of a deposit of $25, $50 or $100 prevents customers from making frivolous, speculative or multiple reservations. Some restaurants accept surcharges to guarantee the best times and best tables or prepayments for routine meals or high-demand special occasions. For example, media celebrity Gordon Ramsay charges $225 per person for no-shows or cancellations within 48 hours of service.
Fine dining at top destination restaurants isn't the kind of service where customers expect to go spontaneously for seating, and people often book months in advance. Charging large deposits against last-minute cancellations and no-shows or requiring prepayment to guarantee the reservation makes sound business policy for many upscale restaurants that have to schedule staff and stock the freshest meats and produce to cover the number of booked guests. These restaurants can seldom make up for no-shows with street traffic or last-minute bookings.
Last-Minute Booking Apps and WebsitesSeveral apps link to OpenTable to find last-minute seats for restaurants that use OpenTable for their reservations. However, there are some more direct ways to guide people to your restaurant when a table becomes available. The Resy reservation-booking website offers restaurateurs a practical way to make up shortages caused by no-shows. Consumers can choose a participating restaurant and buy a table that's available within an hour for the requisite number of people. The cost of each table is negotiated between Resy and the restaurant. Resy also allows people to pay extra to book tables during prime service times.
Flexible Table Management
Part of the solution might come from changing your software. ResoSolutions offers several versions of intuitive software that can maximize revenue through better table management. Your guests won't be redirected away from your website, but reservation widgets can accept third-party reservations from any website or social media platform. Integrating with social media, guests can Tweet their locations to friends and followers to optimize getting last-minute reservations for available tables. Hotel-based restaurants can give preference to hotel guests, and any restaurant can prioritize seating for regular or valued customers on each booking channel.
Challenges of Online Reservation Systems
Using an online reservation system exclusively could hamstring your efforts. Until reservation-booking websites implement carrot-and-stick consequences for people who abuse their systems, no-shows will continue to confound restaurateurs. Recourse for dealing with last-minute cancellations, reduced party sizes and no-shows includes handling reservations in-house and requiring upfront deposits or prepayments and engaging website services that can fill open seats in real-time. OpenTable currently punishes customers by emailing notices when they don't honor reservations. After receiving four no-shows, OpenTable cancels a customer's right to make reservations.
Unfortunately, people can just switch to a different email addresses and continue with their high-handed, speculative reservation-making ways that could put restaurants that operate on thin margins in severe peril. Uber, the app that connects drivers to riders, rates both drivers and their customers in various categories so that drivers can refuse service to difficult customers. OpenTable and other reservation systems have enough information to rate the people who make restaurant reservations. Important information for restaurants includes no-show history, lateness, last-minute cancellations and how often people change the number of dining-party guests without notice. Armed with this information, restaurants could refuse reservations, require a deposit or not take any action, based on the customer's perceived value, relationship with the restaurant and other factors.
Reservation System Solutions
The NiteTables website collects a deposit fee from customers who make reservations at participating restaurants. Although NiteTables charges a licensing fee and percentage for each transaction, the website can reduce no-shows while providing nonrefundable compensation. Table8 offers a similar service in San Francisco, Los Angeles, Chicago, Atlanta, Miami and Washington D.C.
Table-Holding Policy and Dead Seats
Restaurants, of course, typically hold tables for 10 or 15 minutes and longer if guests call ahead with an exact arrival time. No system will ever be perfect because customers linger, a restaurant's service speed can slow table turnovers and even the most reliable customers get caught in traffic or experience emergencies.
Is a No-Reservations Policy a Practical Restaurant Option?
Unfortunately, it's not practical for most restaurants to refuse to take reservations. Of course, busy restaurants, eateries with celebrity chefs and the media's latest superstar restaurants can often break the rules. When the economy was suffering, restaurants couldn't risk turning away business, but recovering economic health has fueled a trend among some upscale restaurants of not taking reservations. These businesses often have average no-show rates of 15 percent or higher. Some upscale eateries suggest that the rate would be as high as 40 percent if they didn't confirm reservations one day in advance.
Customers don't want to wait for a table because they often pay babysitters by the hour, have tight schedules or just don't want to wait. If you plan to stop taking reservations, you could permanently alienate a broad group of people who are unwilling to wait in line. A trendy restaurant that enjoys red-hot fame and fast table turnovers might get by with a no-reservations policy, but even the hottest restaurant succumbs to fleeting fame and will eventually need the practical reassurance that reservations provide.
Restaurateurs walk a fine line while loaded with platters of food that could easily overbalance and come crashing to the floor. The goal of maximizing revenue often conflicts with the demands of customers who can always choose another restaurant. Unless you own a destination restaurant with a celebrated chef, most customers won't prepay unless it's the only way to guarantee a last-minute reservation or to hold a previously booked table. Deposits can and do reduce no-shows, but the most flexible options for restaurants are those that manage tables and reservations on the fly to deal with ever-changing conditions in the dining room.
Sign up for Gourmet Newsletter
Subscribe to our newsletter to get access to exclusive content.
Get this newsletter