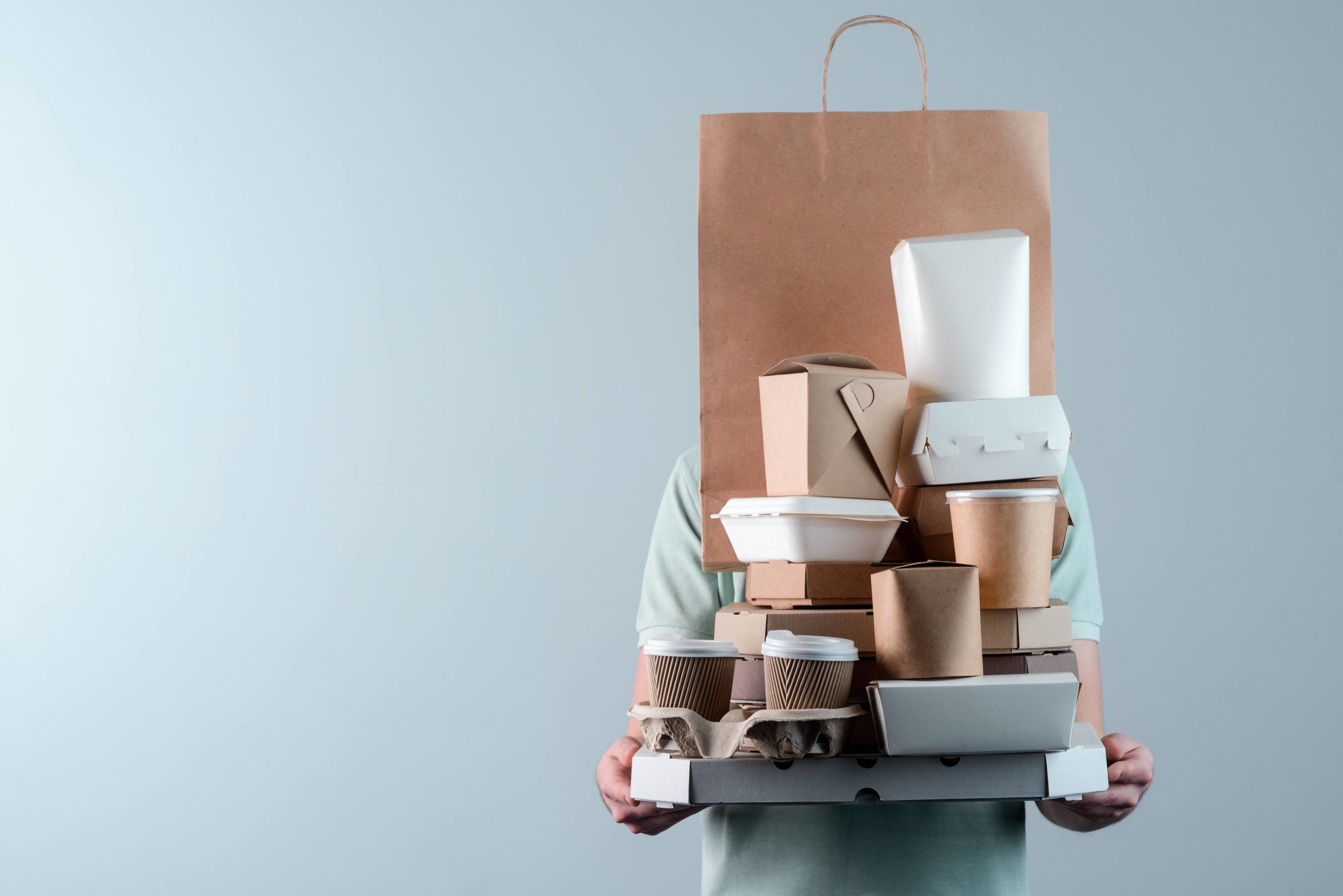 Online ordering, phone apps, and other restaurant technologies make it easier than ever to increase your restaurant's sales of takeaway and/or delivery items.
The pace at which restaurants are adopting new technologies related to delivery and takeaway is astounding. Delivery and takeaway orders are among the fastest-growing segments of the hospitality industry. So an increasing number of restaurants are marketing these services more intensively.
The old delivery model, where restaurants do their own delivery, is being challenged by third-party delivery services. Third-party delivery services are springing up locally, regionally, and nationally to take advantage of the trend. If you're not marketing takeaway and delivery services through third parties or in-house efforts, you're losing money and market share while risking customer dissatisfaction.
Options for restaurants include marketing takeaway orders through easier online ordering and delivering food to customers and businesses in the neighborhood on foot or by bicycle, car, or delivery van. Pizzerias have long dominated the delivery market, but that's rapidly changing as customers can order from their phones, restaurant websites, and third-party services.
A critical concern for any restaurant is how to increase revenue with a limited number of seats. Promoting takeout and delivery orders offers a lucrative income stream that works for all types of restaurants and not just fast food places. People in every city and socioeconomic group occasionally want to relax at home without preparing their own meals.
You may also like this: Costing and Pricing Food in the Restaurant Industry
Pros and Cons of Restaurant Deliveries
Delivery services — and even promoting takeaway orders — can significantly increase profits. The efforts your restaurant makes to promote deliveries and takeaways can carry over to your in-house business as well. Your marketing may have positive side effects such as Internet visibility, SEO rankings, and your online reputation.
However, there are some challenges to consider. Handling deliveries and increased carryout orders can interfere with normal operations and slow in-house service. You might need a special area to prepare these orders if your efforts are successful. You might need more staff, and you'll certainly put pressure on your existing staff. Servers, in particular, won't like assisting with takeaway and delivery orders when they don't make tips in the process.
You'll also need some kind of vehicle, insurance, and reliable delivery people unless you outsource the deliveries to third parties, which is an increasingly attractive option for busy restaurants. Another alternative for urban restaurants that have major traffic problems is delivering food on bikes. It is an easy way to negotiate congested city streets quickly.
Setting Up a Delivery System
Good advice for starting a delivery service is to proceed cautiously. You can start by delivering in the immediate neighborhood and limit deliveries to breakfast, lunch, or dinner, depending on your cuisine, customers, and in which area you'd most like to increase your sales.
Advance planning is essential for targeting your delivery radius and planning which items you want to include for deliveries. Some foods are easily transportable while others aren't. Concerns for both deliveries and takeaways orders include:
Getting food to customers hot
Packaging food safely
Securing food in the delivery vehicle
Marketing services
Providing clear ordering options so that orders aren't prepared incorrectly
Including appropriate condiments, napkins, and tableware
Marketing your services
Managing staff to handle the increased business
Marketing Deliveries and Carryouts
Marketing your deliveries and carryout orders builds your database for all kinds of digital and traditional marketing efforts. The more ways that you offer customers to order, the more customers and orders you can get.
You can start simply enough by distributing flyers in the neighborhood and to nearby offices and factories. Other methods of marketing your service inexpensively include:
Using your website to promote the services
Including copies of your menu in all carryout orders
Posting menus on local bulletin boards
Advertising on carryout packaging
Marketing in-house with signage
Posting your menu online and taking orders over the Internet
Buying ads in yellow pages, local directories, newspapers, and magazines, especially culinary magazines
Issuing press releases to local media and digital platforms that target local audiences
Getting servers and staff to promote the services to customers with suggestive selling
Also see: How to Promote Your Restaurant in 14 Steps
Packing Heat
Your packaging should prevent heat loss and spillage — perhaps by wrapping the orders in foil or plastic wrap. You can also pack food in heated or chilled containers for deliveries and stabilize containers of liquid with cardboard inserts or compartmented trays for both takeaway and delivery orders.
You'll want packaging that includes your restaurant's logo, colors, address, and contact information because the packaging is free advertising. Packages should be stackable, easy to store, and possibly freezable and reheatable for your customers' convenience.
Get It Right the First Time
Unlike service in your dining room, mistakes and omissions in deliveries can be costly if your drivers need to make additional trips to correct errors or deliver missing items. Someone should be designated to double-check each order for accuracy and see that the necessary condiments, napkins, and plasticware are included.
Delivery drivers might carry a range of materials to satisfy requests for extras or unexpected items. Drivers should carry enough cash to make a change if you accept cash, but it's safer for everyone if you require payment in advance by using an online payment method.
Train Your Drivers
Delivery drivers usually use vehicles that identify the restaurant they're working for. So you need to have a frank discussion with your drivers about customer perceptions. No matter how safe a driver operates the vehicle, people's perceptions are unpredictable. Some motorists think that slow, overly cautious drivers are a traffic hazard, but your drivers need to drive within the speed limit and exhibit the utmost courtesy.
If people perceive that your drivers are too aggressive — even if they drive safely — some might take out their driving frustrations on easily identified targets by complaining.
Increasing Carryout Orders
Online ordering is essential for maximizing your carryout orders. You can offer to order options on your website, take phone orders or use a third-party ordering system. Many restaurants offer their customers multiple ways to order to ensure that they get more business.
Using Technology to Manage Delivery/Carryout Operations
Technology can simplify running a delivery service or selling carryout orders in many ways, beginning with marketing. Posting your menu digitally in several places allows customers to order directly. Using advanced software simplifies the problems of getting the orders prepared correctly.
You can specify all the options that customers can choose so that they know what they're getting and can modify their orders to satisfy their preferences — such as specifying no onions, mustard, or mayonnaise.
Prompts can remind your customers that they must choose dressings for their salads, how their meat should be cooked, and decide on other menu variables. An advanced POS system can transmit each part of the order to the right preparation station, which facilitates ordering and reduces the need for staff to take these orders over the phone. Customers can review and pay for their orders with digital ordering systems and further ease the administrative demands of running your carryout/delivery service.
Advanced software can help to schedule your staff, based on past performance for the date, day of the week, weather, and special events in the city that affect restaurant sales. You can also use technology to route your deliveries for efficiency and avoid traffic problems.
Using tablets and smartphones, you and your delivery staff can maintain close contact if something is forgotten or routing changes become necessary. For example, a driver that's still nearby might return to the restaurant if another order is ready that's going in the same direction. If you have more than one delivery vehicle, the drivers might meet and exchange orders that are going in different directions.
Third-Party Delivery Services
Third-party services are increasing nationally, regionally, and locally to provide restaurateurs with an array of delivery options. Managing the delivery logistics is often challenging for restaurants that would prefer to concentrate on food preparation. The good news is that you don't have to buy a delivery vehicle, train drivers, and deal with delivery issues if you outsource your deliveries.
Top 5 Restaurant Delivery Software - Infographics
The major players nationally are currently in a major expansion phase, and many national delivery services are merging. You can choose from these major providers or local services that might offer better terms and more personalized service. However, you should be aware that many of these local services might be speculative in nature and hoping to sell out to one of the major services.
Some of the major national delivery services include GrubHub Seamless, Postmates, Caviar, Dashed, Eat24, Takeout Taxi, and Amazon.
GrubHub Seamless
GrubHub Seamless has merged with other delivery services to become a commanding leader among restaurant delivery services. Restaurants only pay for orders that the site generates for them. The company currently delivers for more than 20,000 restaurants in 500 U.S. cities.
Recently acquiring Boston-based DiningIn and a California delivery service called Restaurants on the Run, GrubHub continues its march to dominate the delivery market. However, Amazon's decision to enter the market should keep the industry competitive.
Postmates
Postmates covers major metropolitan areas in California, Colorado, the District of Columbia, Florida, Georgia, Illinois, Massachusetts, Minnesota, Nevada, Oregon, Pennsylvania, Tennessee, Texas, Virginia, and Washington. The company offers a convenient app for consumers that allows them to order with a click of a button. Chipotle plans to begin offering deliveries through Postmates.
Caviar
Launched in 2012, Caviar focuses on delivering food for upscale restaurants in cities Like New York, Boston, San Francisco, Dallas, Los Angeles, Chicago, and Miami. Owned by Square, the delivery service is not limited to restaurants but also provides deliveries for food trucks, green market vendors, and smaller boutique-type restaurants. Restaurants, which must qualify for acceptance, get a flexible business partner who handles all the delivery details so that the staff can concentrate on providing superior food.
Dashed
Dashed, a Boston-based delivery service, started with one bicycle and now serves more than 700 restaurants in Boston, New Haven, Jersey City, Hoboken, Providence, Baltimore, and Philadelphia. The delivery fleets consist of about 25-percent bikes and 75-percent cars. Some of the service's best-known clients include P.F. Chang's and Pinkberry. The company tries to deliver any order within 45 minutes and offers a great option for deliveries in congested East Coast cities where bicycles often provide faster service than cars.
Eat24
Yelp, the influential review site, recently acquired Eat24, a delivery service that more than 20,000 restaurants use. The expanded company will have greater access to the millions of restaurants that are featured on the Yelp review platform. Some restaurants have complained about Yelp's business practices in its reviews, so it's recommended that you carefully research the terms before choosing this option.
Takeout Taxi
Takeout Taxi is one of the largest delivery services that utilizes local taxis to deliver restaurant orders to customers. Deliveries are guaranteed to be delivered in 30–60 minutes. The company publishes its partner restaurants' menus online and in a booklet form for customers.
Amazon
Amazon is gearing up to enter the delivery market in a major way, but the company is currently still testing its business model before offering the service nationally. Currently testing in Seattle, the service will soon expand across the country to challenge GrubHub's domination of the market.
Amazon has the potential to build your restaurant a virtual storefront on Amazon local and connect with its Groupon-style online ordering and coupon system. Your customers can easily browse your menu from any device, place an order and schedule a delivery. Restaurants won't have to pay anything in advance, and all payments are deducted from sales that come through the site.
Things to Consider Before Contracting a Third-Party Delivery Service
Before choosing a third-party vendor, you should investigate how the deliveries work, what the fees are, when you receive your payments for the orders that are placed and how fast deliveries are made.
Even though the third-party service delivers the food, your customers will tend to hold you responsible for errors, omissions, and poor service, so you need to research how the process works. Does the service charge a delivery fee or a minimum order? Is everything on the menu covered, or are you limited to a certain number of choices? The answers to these questions are critical when choosing your delivery partner.
You might find better terms with an aggressive, local company that's willing to offer greater flexibility. Fortunately, you can choose from dozens of delivery options in major and medium-sized cities across the country because delivery services are one of the hottest trends in foodservice.
Big Business Ahead with Food Deliveries
Food takeouts and deliveries are estimated to generate about $70 billion annually in the United States, and growing numbers of national, local, and regional restaurant consultants are noticing and jumping on the delivery wagon. Restaurateurs can choose from an increasingly wide array of delivery and carryout options from online ordering services to third-party deliveries.
You can easily increase your business with carryout and delivery services, and they often work in a complementary way to dining room activity. In other words, when the weather is bad, people tend to order more deliveries and carryout orders, and in-house business is slower. When things are popping in the dining room, the takeout services usually slow a bit.
Sure, there will be days when you get a bit overwhelmed with the orders from every area, but those will be among your most profitable days. Few restaurateurs would consider too much business as a drawback, especially if they've made contingency plans and have staff on-call when things get hectic.
Contact us to learn more about how to market your delivery services.
Sign up for Gourmet Newsletter
Subscribe to our newsletter to get access to exclusive content.
Get this newsletter