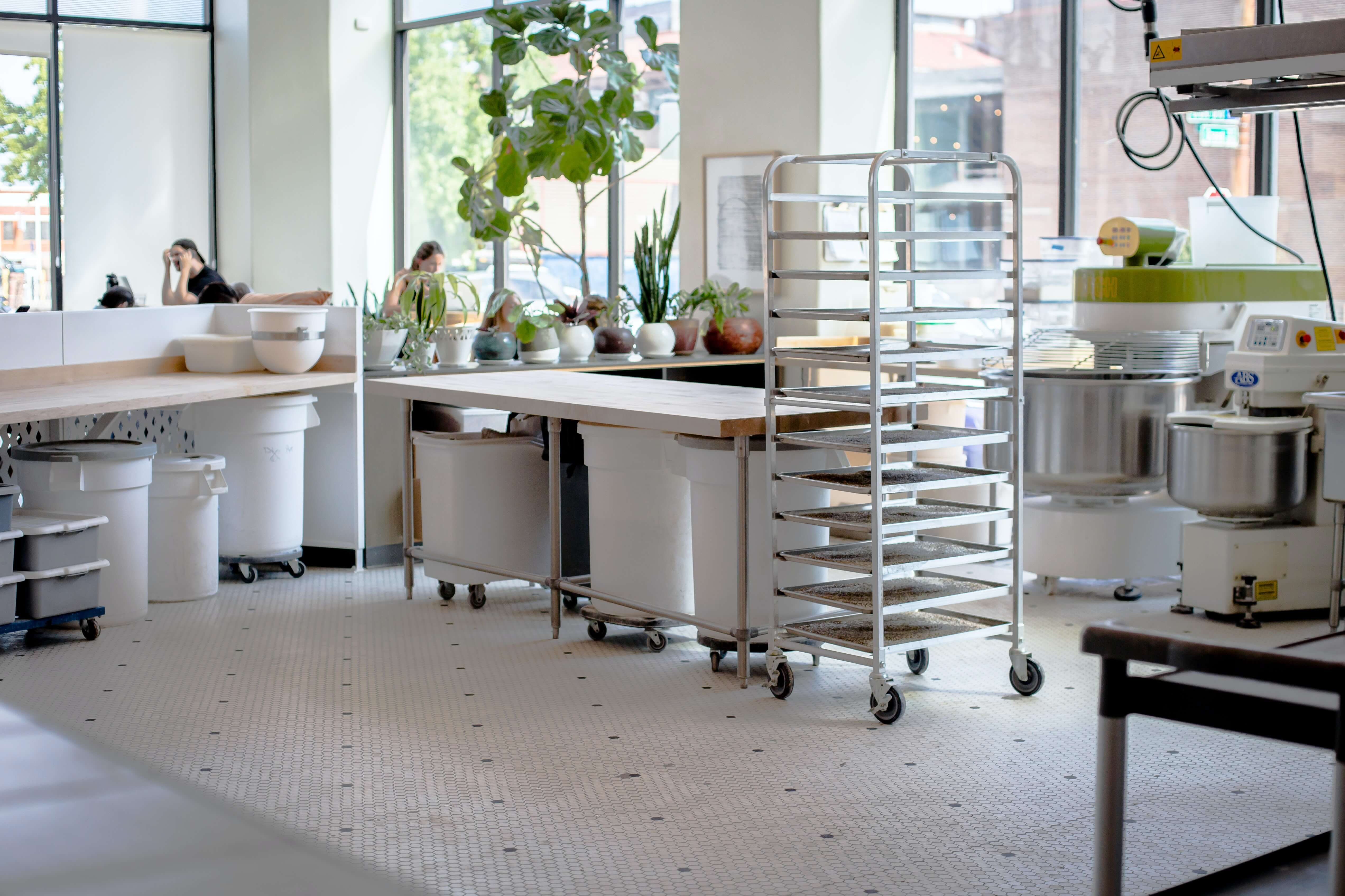 New restaurant equipment looks immaculate in showrooms. However, it is rather jarring when new restaurant owners discover the expense and complexity of equipping a restaurant. Buying restaurant equipment offers many logistical problems for managers to consider.
Expensive new equipment might cost more than buying an established restaurant or building. Alternatives exist and are commonly used. Entrepreneurs might consider leasing equipment, limiting production and adjusting menus to take the greatest advantage of existing equipment, restaurant space and business volume until growing sales justify further capital expenditures.
Restaurant equipment is expensive, but you'll need modern technology for both the front and back of the house if you want to stay competitive.
Analyzing Equipment and Personnel Needs
The planning process helps to optimize how restaurants use their equipment. Owners and managers can choose equipment that chefs can use for multiple cooking tasks to save money. Leasing specialized equipment reduces the strain on capital budgets for new businesses. Another strategy involves outsourcing certain products to other vendors. For example, daily deliveries of fresh bread and catered desserts offer desirable benefits for your customers without requiring the major expense of buying a commercial oven.
Personnel also need to have experience with the equipment or get the proper training. Most new equipment manufacturers offer training resources, videos, operating manuals and other aids. Your restaurant's safety, reputation and profit depend on proper equipment operation. Online buying guides, reviews and promotional literature can help you choose the right makes and models of kitchen equipment for your needs.
There are some general issues for all restaurants to take into consideration. Remember that central kitchens with high-capacity cooking equipment require staff members who are able to handle heavy ingredients.
Large equipment forces workers to reach greater distances for cleaning and maintenance. A 400-gallon steam kettle requires workers to climb ladders to add ingredients and keep the machine clean and sanitary. Some equipment produces high levels of sound, so sound-dampening techniques might become necessary. Producing large volumes of food in central kitchens leads to safety risks because repetitive and monotonous tasks cause judgment errors.
Used Restaurant Equipment in Perspective
Buying an established restaurant usually reduces the need for buying equipment, and most owners can customize their kitchens by adding a few key pieces. Used equipment also offers benefits for new owners or existing restaurants.
For all types of equipment, the total bill is greater than the sticker price. The cost of equipment, new or used, also includes repair and maintenance expenses. For example, coolers, ice-making machines and freezers need frequent service.
Though cheaper, existing equipment has hidden costs. Taking over an existing restaurant requires inspections of all equipment. Sometime, repairs or upgrades might be necessary.
Some pieces of equipment can blow a hole through a restaurant's budget. The costs of refrigeration, heating units, shelving and storage could run from $100,000 to $500,000 dollars, so many restaurant owners turn to used equipment as an affordable way to get the doors open for business.
Deciding on new versus used equipment isn't merely about money. There are possible problems with labor and customer support. Used equipment often needs service, so finding a reliable service technician makes practical sense. Training employees could prove difficult with used equipment because manufacturers provide fewer support resources for second-hand owners.
Pros and Cons of Buying Used Equipment
Buying new equipment for the front and back of the restaurant might be impossible if your capital budget is tight. Used equipment can get you started, but you'll have some trade-offs to consider. Although used equipment is less expensive, most used equipment doesn't come with any guarantees or transferable warranties. If you have someone on your staff who knows something about equipment or has mechanical skills, get him or her to help you assess any equipment before buying it.
Look for used items that are in good working condition. Some items might even have remaining time of their original warranties that are transferrable. Check for rust, missing parts, worn electrical connections and loose screws. Find out if parts are still available for the equipment if it breaks down. You should also consider the cost-value benefits of using new equipment versus using used equipment that might not be as energy-efficient.
Types of Essential Kitchen Equipment
The types of kitchen equipment that restaurants need depend on cuisine, anticipated volume, space limitations and staff qualifications to operate the machinery. Key equipment for most restaurants include the following items:
A staple in all kitchens, commercial ranges handle many cooking tasks, have an oven for limited baking and can function as a grill for pan-searing.
These ovens bake faster than standard ovens, heat up more quickly and generate energy savings.
Most kitchens need commercial dishwashers for proper sanitation and faster cleaning speed. Restaurants frequently run out of silverware and dishes during busy meals.
Restaurants might need one or more fryers even though restaurant trends favor fewer fried foods. Some restaurants keep dedicated fryers for seafood, fries, chicken or other restaurant foods like blooming onions. Special fryers combine deep fryers with pressure-cooking technology for faster chicken preparation.
All restaurants need suitable refrigeration for perishable foods, and many commercial-kitchen designers choose to place smaller units closer to grills and flat-tops to limit opening walk-in doors and facilitate quick access to ingredients for busy chefs.
Small restaurants might get by with food processors for their mixing needs, but large mixers expedite many common kitchen tasks including bread-making, mass production of desserts and pastries, combining ingredients thoroughly and making proprietary condiments.
Restaurants that cook lots of meats and breakfast foods usually need flat-top grills, charcoal broilers or other devices for volume cooking.
Challenges and Opportunities in the Front of the House
You can face it now or later, but no restaurant will be successful over the long-term unless it integrates digital technology into its operations. If you're just starting out, now's the best time to include FOH equipment in your business plan so that you get started with all the tools and equipment you need for success.
In the front of the house, you'll need a POS system, cash register and stations where servers can input orders. You'll also need printers at each cooking station in the kitchen. Your POS system may come with these kinds of hardware, or you might need to buy them separately.
Other FOH Equipment to Consider
Each front-of-the-house operations has different needs for equipment depending on the restaurant concept and your unique spin. Maybe you serve freshly baked bread, so you'll want a handy bread warmer for servers. If you specialize in sumptuous desserts, a dessert case or cart will help you sell them. Most FOH operations have refrigerators, freezers, bar equipment and coffee- and tea-making stations. You might need dishwashing or glass cleaning equipment.
Digital technology has opened a new line of must-have equipment for successful restaurants. Your choices include technology for digital signage, tableside ordering, loyalty programs and Internet connection. Specific examples of useful FOH equipment include:
Manned or self-service kiosks for ordering

Loyalty program check-in stations

Video monitors including widescreen technology

Digital menu boards or signs

Programmable environmental controls

Sound systems for music and live entertainment

Energy-efficient lighting for special functions

Tablets for tableside ordering

Inventory devices

Credit card readers
The right food-preparation equipment saves time and money, consistently delivering high-quality food. You can often use affordable, smaller gadgets at various restaurant stations to save money instead of buying high-capacity equipment for professional kitchens. For example, use a Hamilton Beach $40 food processor for servers instead of a $1,000 Robot Coupe machine. Used equipment, leasing and outsourcing also provide alternative ways to deal with equipment or funding shortages.
Regardless of equipment, use your best judgment to determine the pros and cons of new and used equipment. New equipment might cost more, but it can save money by reducing energy costs, speeding production and reducing accidents and injuries. FOH equipment that connects your restaurant for digital marketing can increase your sales and customer loyalty while reducing operational costs. Buying equipment for your restaurant takes a planned strategy if you want the best results.
Sign up for Gourmet Newsletter
Subscribe to our newsletter to get access to exclusive content.
Get this newsletter